Whether you're looking for your perfect island getaway, next big hiking adventure, a gastronomical paradise, or a complete historical immersion, Greece truly has it all.
You've seen the photos of dreamy places like Santorini all over your Instagram feed, but there's so much more to this scenic country than just that. Are you ready for one of the most diverse lists of the best things to do in Greece?
Tell me you're obsessed with Greece without telling me you're obsessed with Greece. I'll go first:
31. Rent a boat
Renting a boat to sail around the Greek islands is the ultimate flex, if you ask me. The best part is that it's totally doable, and there are several options to choose from. If you are traveling with friends, you can rent a boat together for a more customizable experience. You can also rent a yacht through Yacht Week, which is more glamorous. Read about all the different boat rental options here!
30. Go sailing with a guide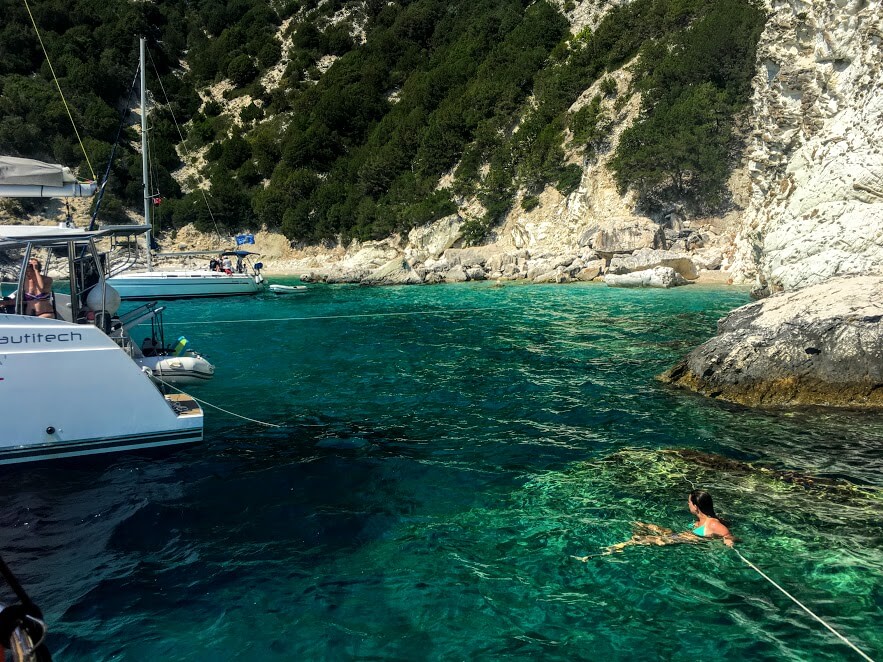 If you'd rather experience the gorgeous seas of Greece without the pressure of sailing your own boat, consider hiring a guide or joining a tour to take you around. Get Your Guide has hundreds of options, with a range of prices and amenities to choose from. Happy sailing!
29. Island-hop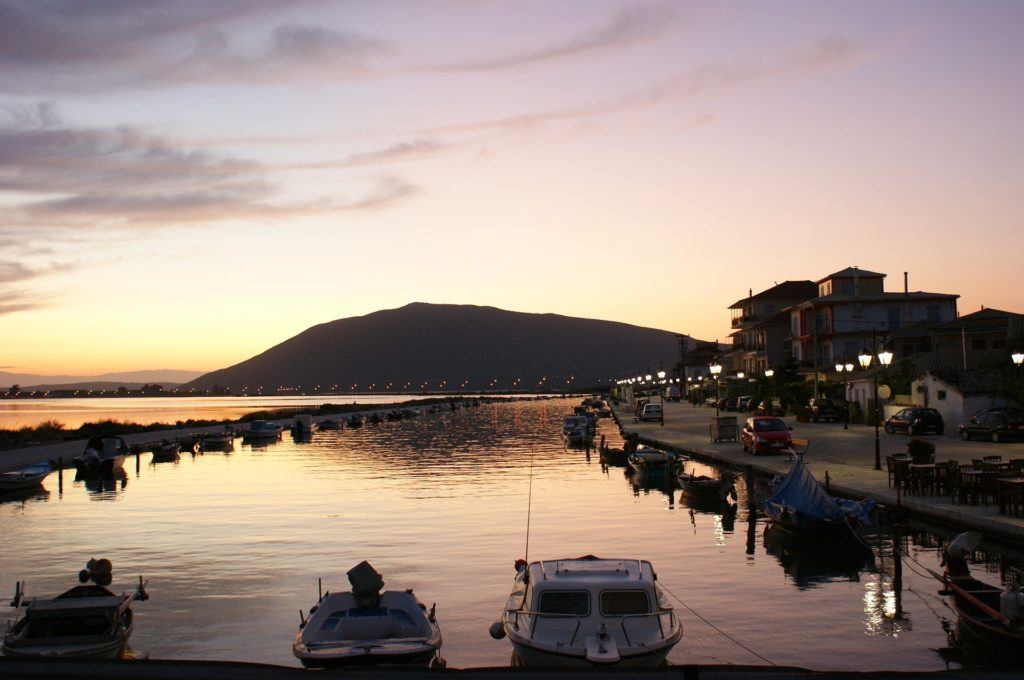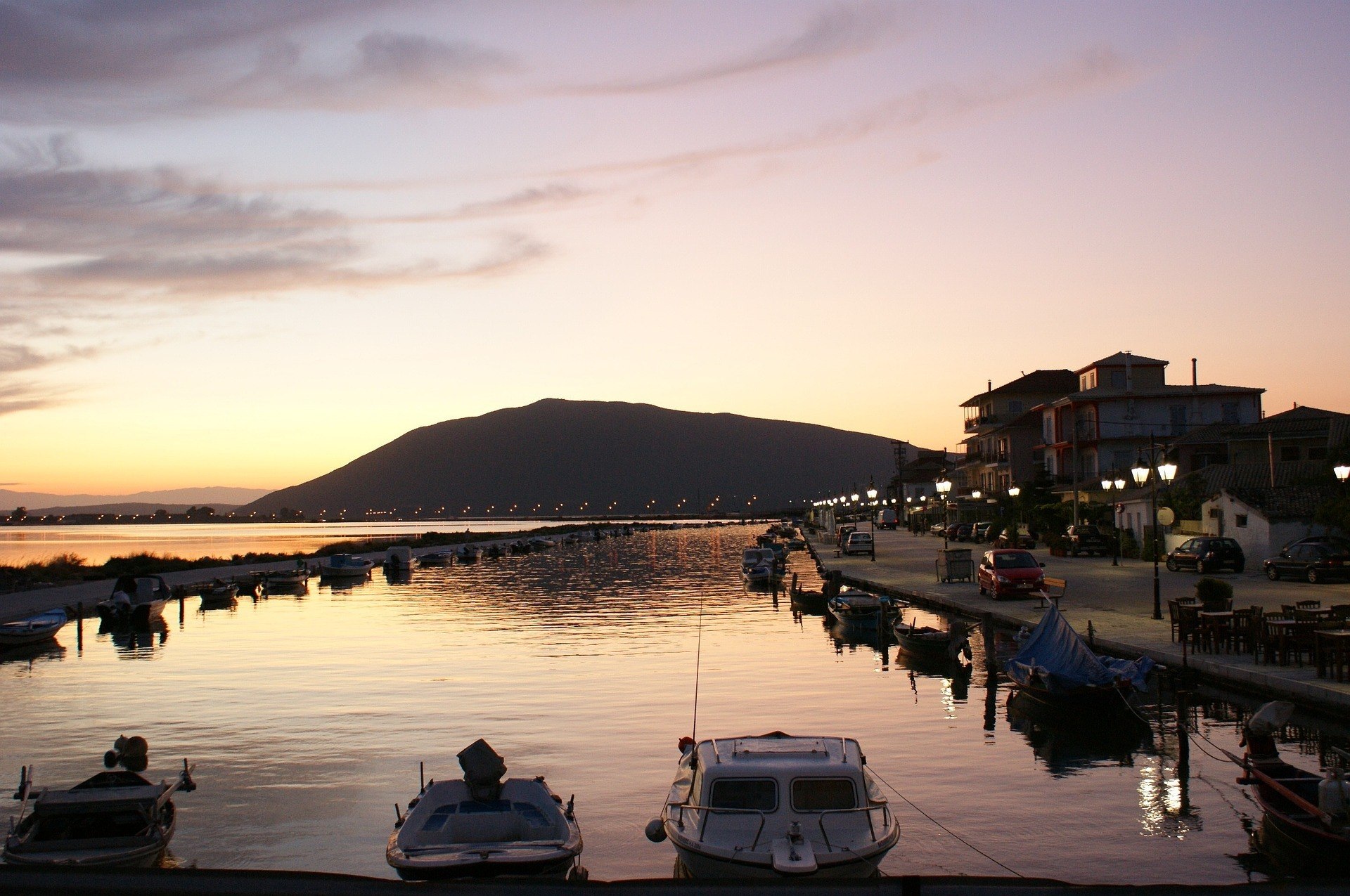 There are 227 islands in Greece just waiting for you to experience. One of the best things to do is to spend some time hopping from island to island. There are several island chains that can be visited on their own or be made into a complete island-hopping itinerary.
There are two island groupings that are particularly famous. First there are the Cyclades, which include Santorini and Mykonos. Then there are the Ionians, which are just off the west coast of the Greek mainland. Whichever island chain you choose, you're sure to find plenty of diverse culture, gastronomy, and scenery on each island.
28. Be wowed at the Acropolis in Athens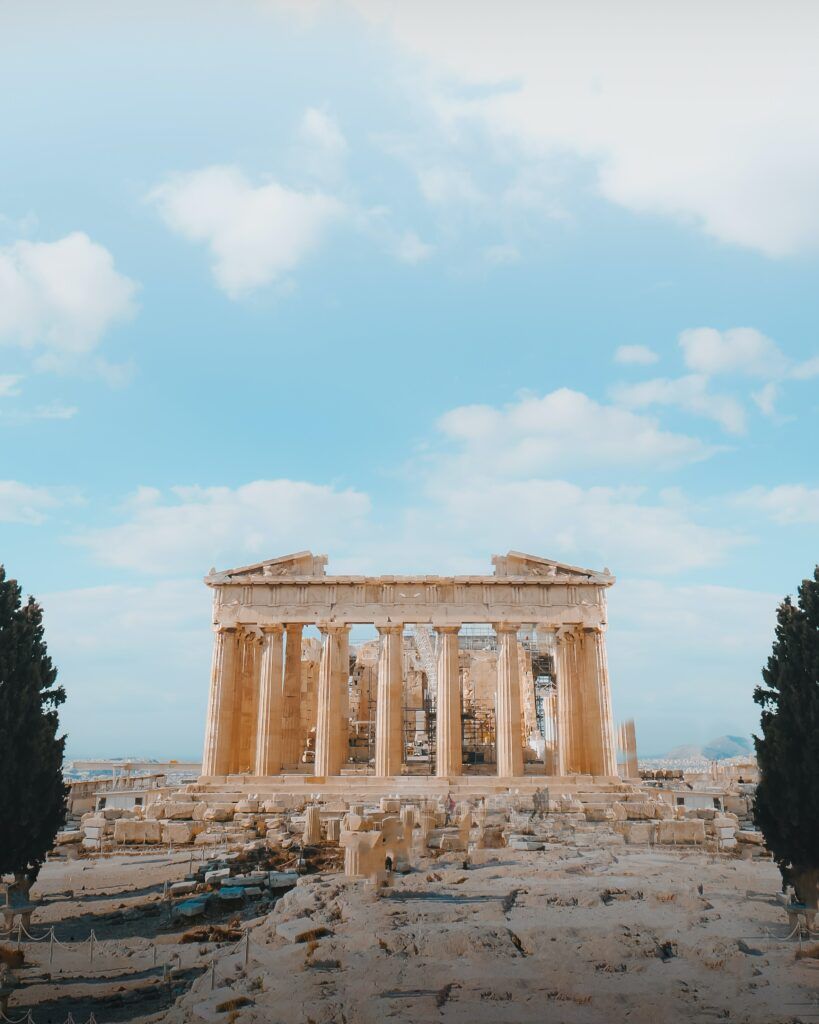 The Acropolis is easily one of the most well-known attractions in all of Greece. It is the birthplace of Western civilization, after all! For that reason, no trip to Greece is truly complete without making a stop at the Acropolis.
This tour from Get Your Guide includes a licensed guide who will take you to hidden spots like Pnyx Hill. From the Acropolis, catch a killer view of Athens and the Aegean Sea for a truly memorable experience.
27. Pretend to be an Olympian at the Panathenaic Stadium in Athens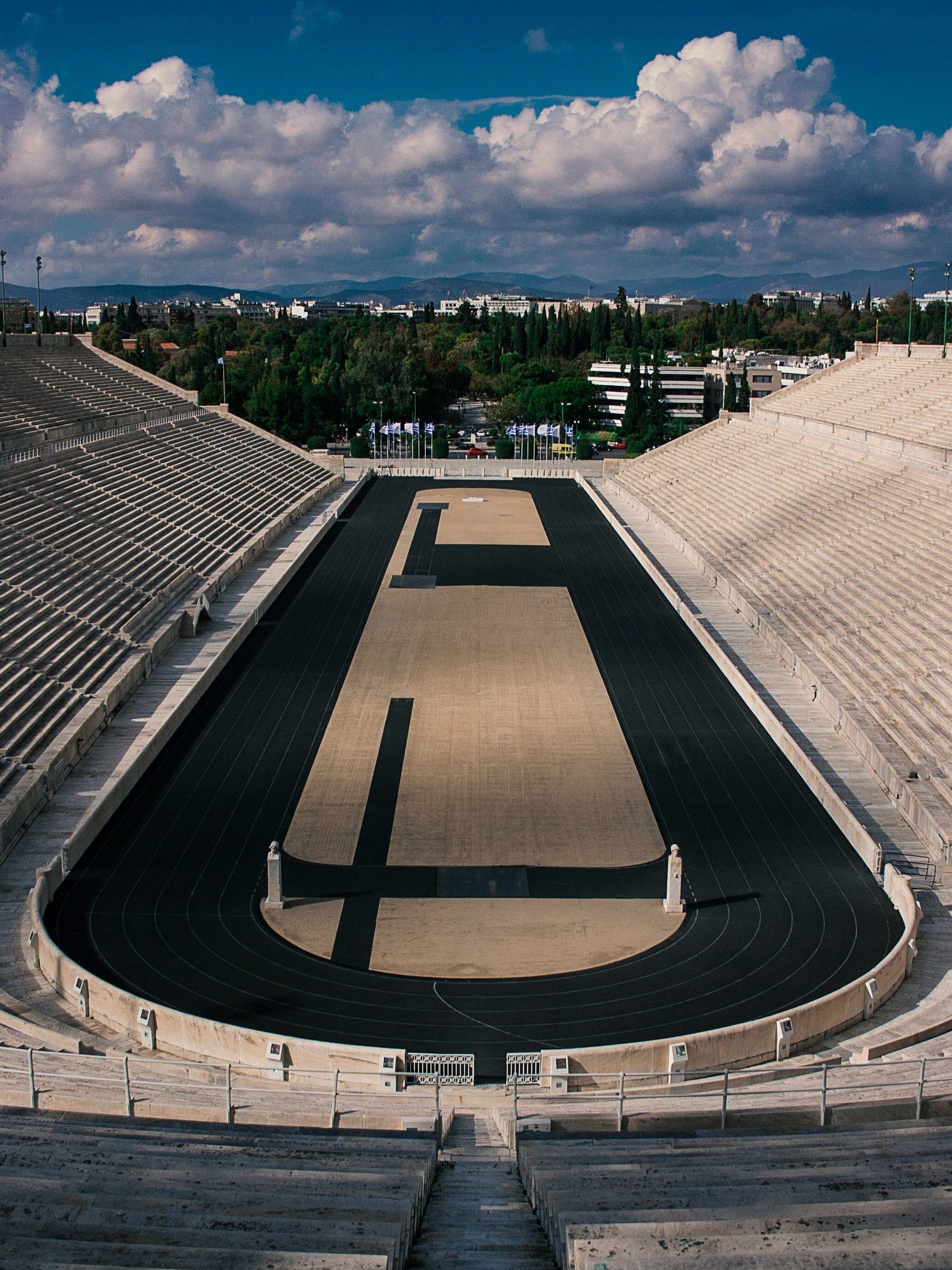 Simply visiting the Panathenaic Stadium in Athens is an awesome experience in itself. Take your trip to the next level by doing an Olympic-style workout in the stadium! That's right: You can learn about the history of the stadium and find out how ancient Olympians trained during this totally immersive experience. Lace up your shoes and get ready to sweat like an Olympian!
26. Wander through the National Garden in Athens
In the middle of the bustling city of Athens lies the breathtaking 24-hectare National Garden. Within the garden, you'll find thousands of species of plants, a conservatory, children's library, a small café, and six lakes. You could spend an entire afternoon simply wandering about and admiring the beauty of the garden.
For a speedier zip through the garden, consider renting a bike or going on a bike tour. This is a great way to see the National Garden if you don't have as much time to walk though it.
25. Be charmed at Hephaestus Temple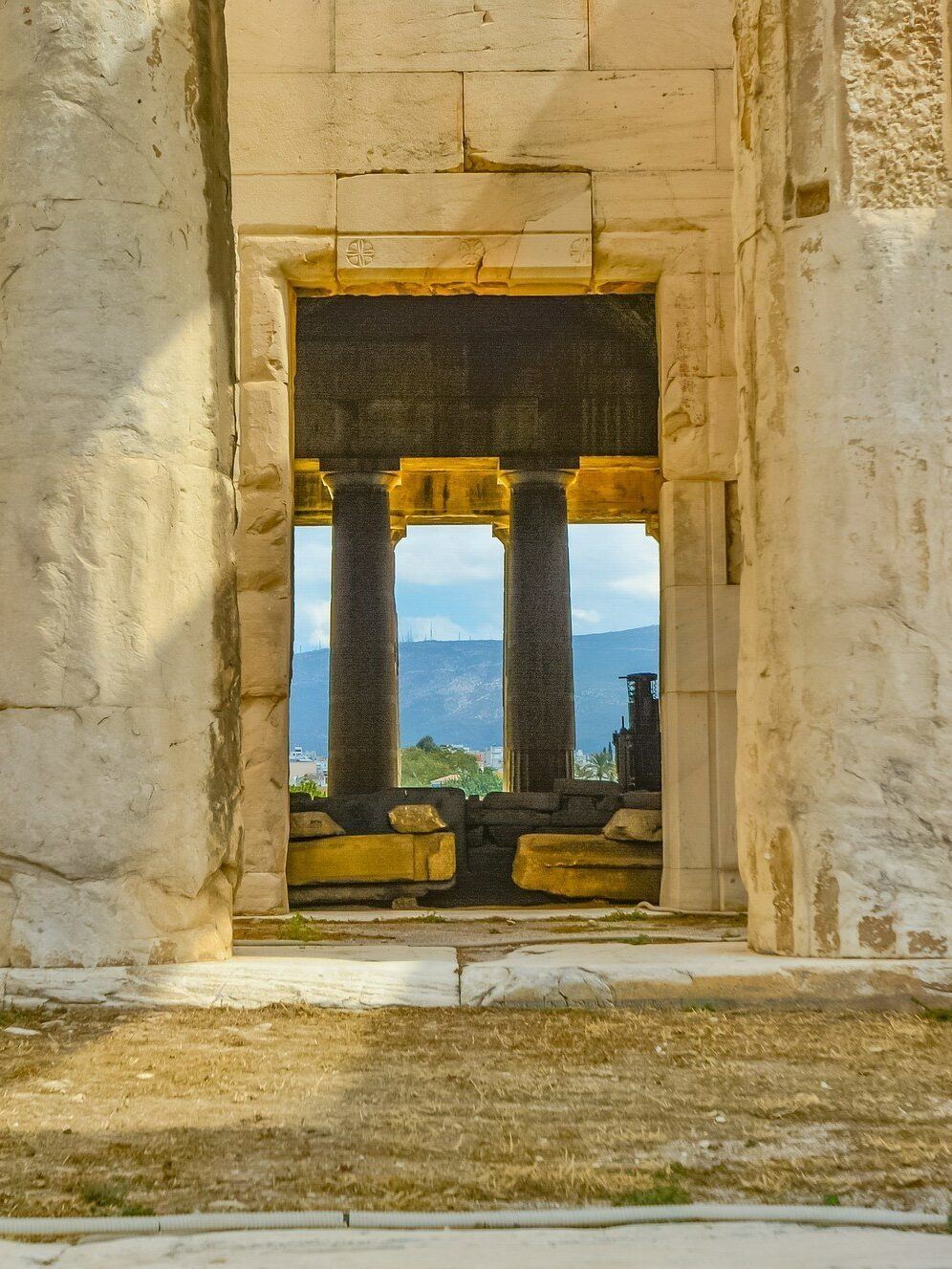 This gorgeous temple is known to be the most-preserved temple in all of Greece. It was dedicated to Hephaestus, the god of fire; and Athena, the goddess of pottery and crafts. It is one of the best examples of Dorian architecture atop Agoreao Koronos Hill in Athens.
The Pentelic and Parian marble decorations, along with the quintessential columns, are the temple's best features. As one of the most historically significant temples in Greece, the temple is included on many tours, like this unique nighttime bike tour.
24. Time-travel at the Ancient Theatre of the Asklepieion at Epidaurus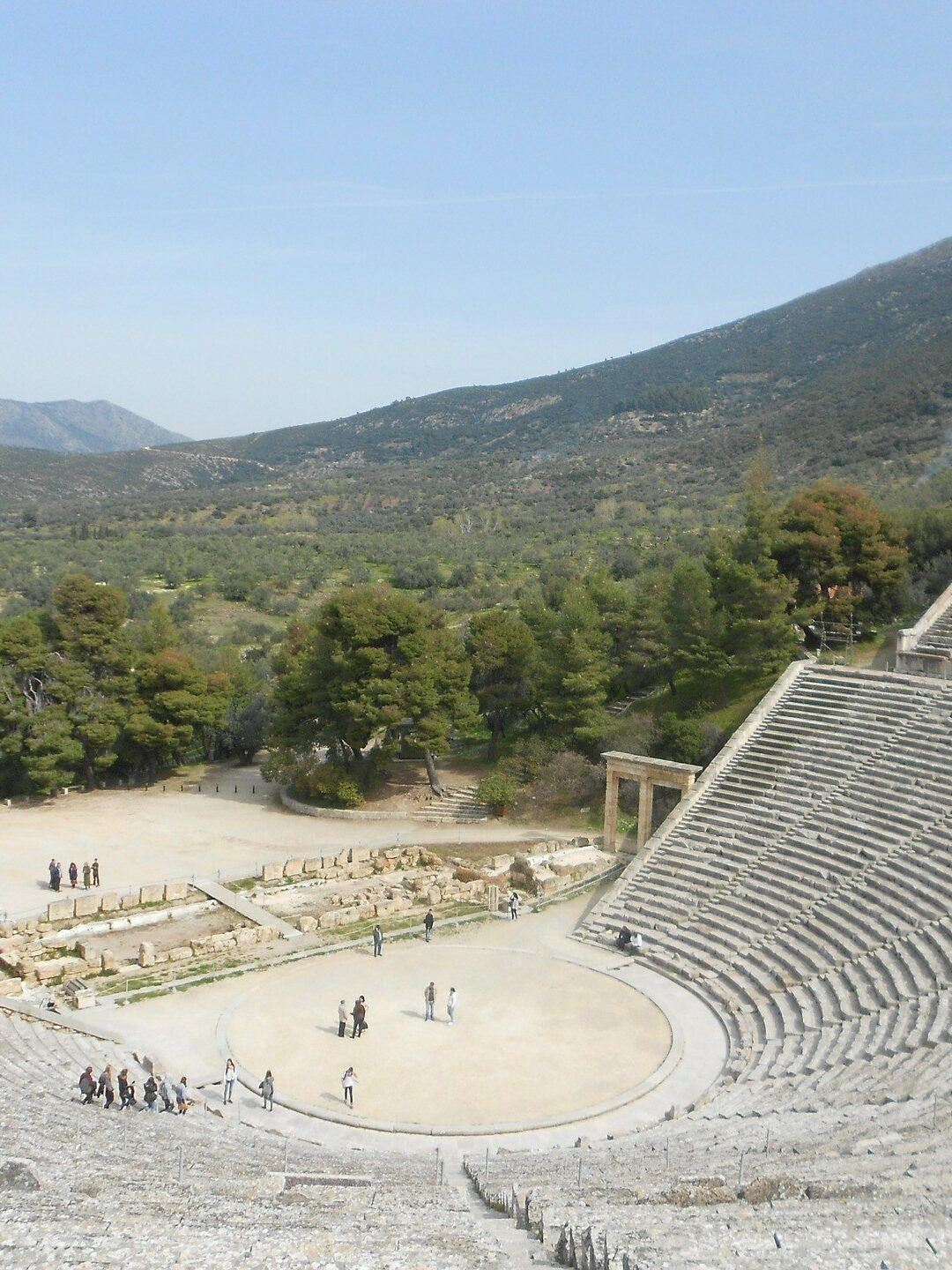 This ancient Hellenic theater is located in the small village of Epidaurus and was founded in the 4th century BCE, making it one of the oldest of its kind. The most mind-blowing thing is that it's still in use today! A visit will have you feeling like you are stuck in a time warp as you observe how the site has truly stood the test of time.
If you want to tour Epidaurus and nearby Mycenae in the same day from Athens, check out this tour that goes to both!
23. Go on a pilgrimage to Delphi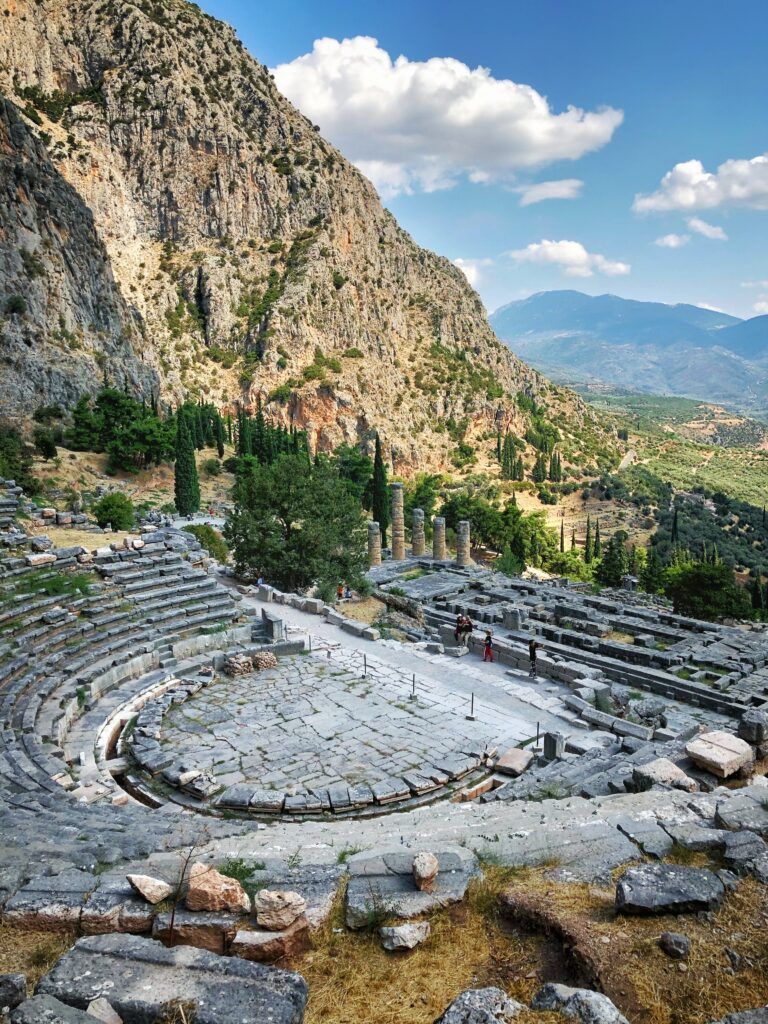 On the side of Mount Parnassus, you'll find the UNESCO World Heritage Site Delphi in all of its architectural glory. The ruins here include a theatre, a stadium, temples, and more.
The ancient city was the destination for pilgrims who would journey there to pay homage to Apollo and seek guidance from the Oracle of Delphi, aka the high priestess Pythia. Take yourself on your own pilgrimage to Delphi and discover its wonders. Book a guided tour here.
22. Climb Mount Olympus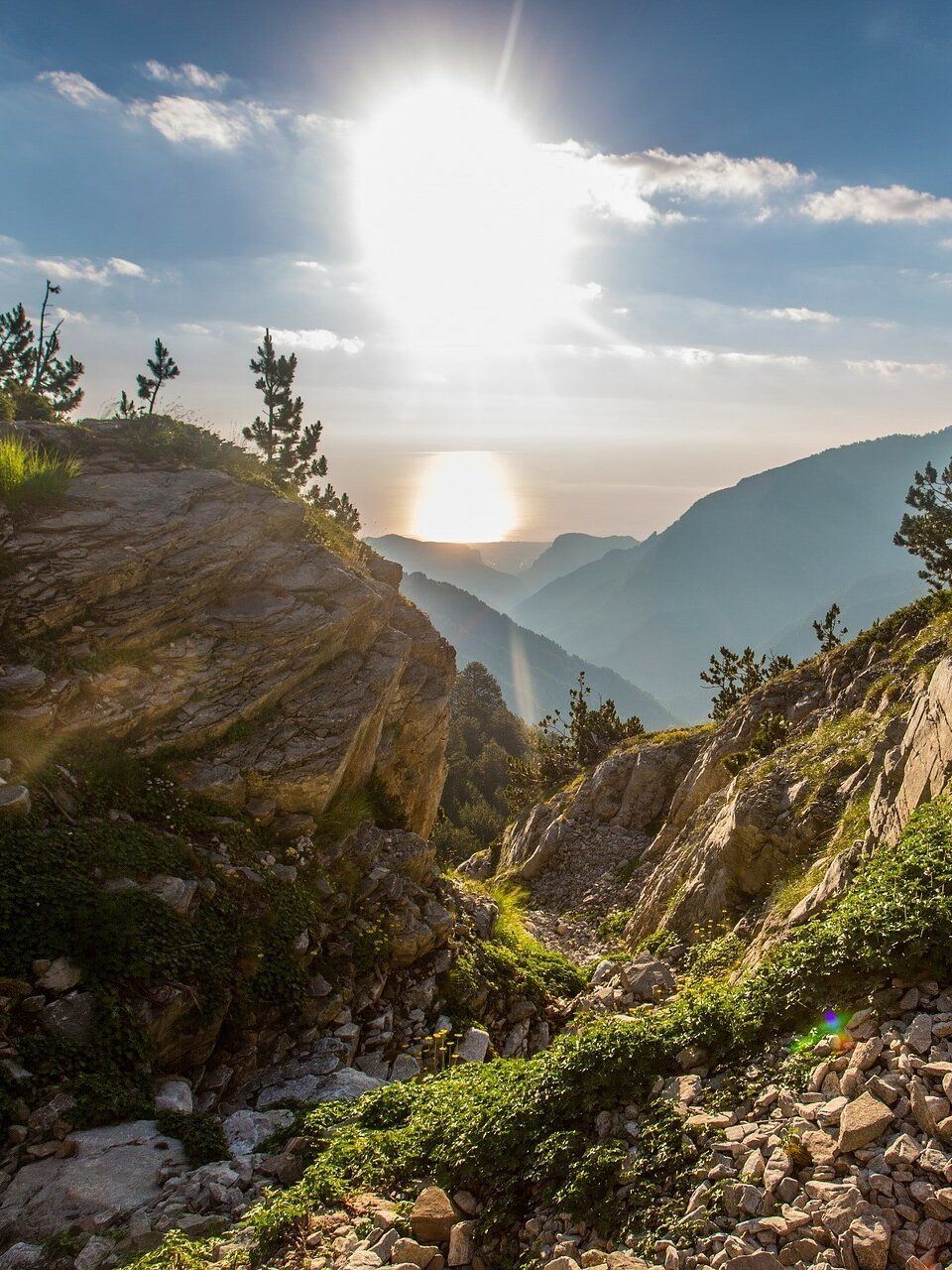 Climbing Mount Olympus (aka the Mountain of the Gods) is one of the most epic things you can do in Greece. It's an absolute must-do for any outdoors enthusiast. As the highest mountain in the country (9,570 feet tall), its skyscraping peak was believed to be the home of twelve ancient gods.
The entire hike takes two days, but there are plenty of mountain refuges along the way where you can stay. For more information on how to hike to the peak of Mount Olympus, check out Olympus Climbing.
21. Marvel at the Olympia Archaeological Site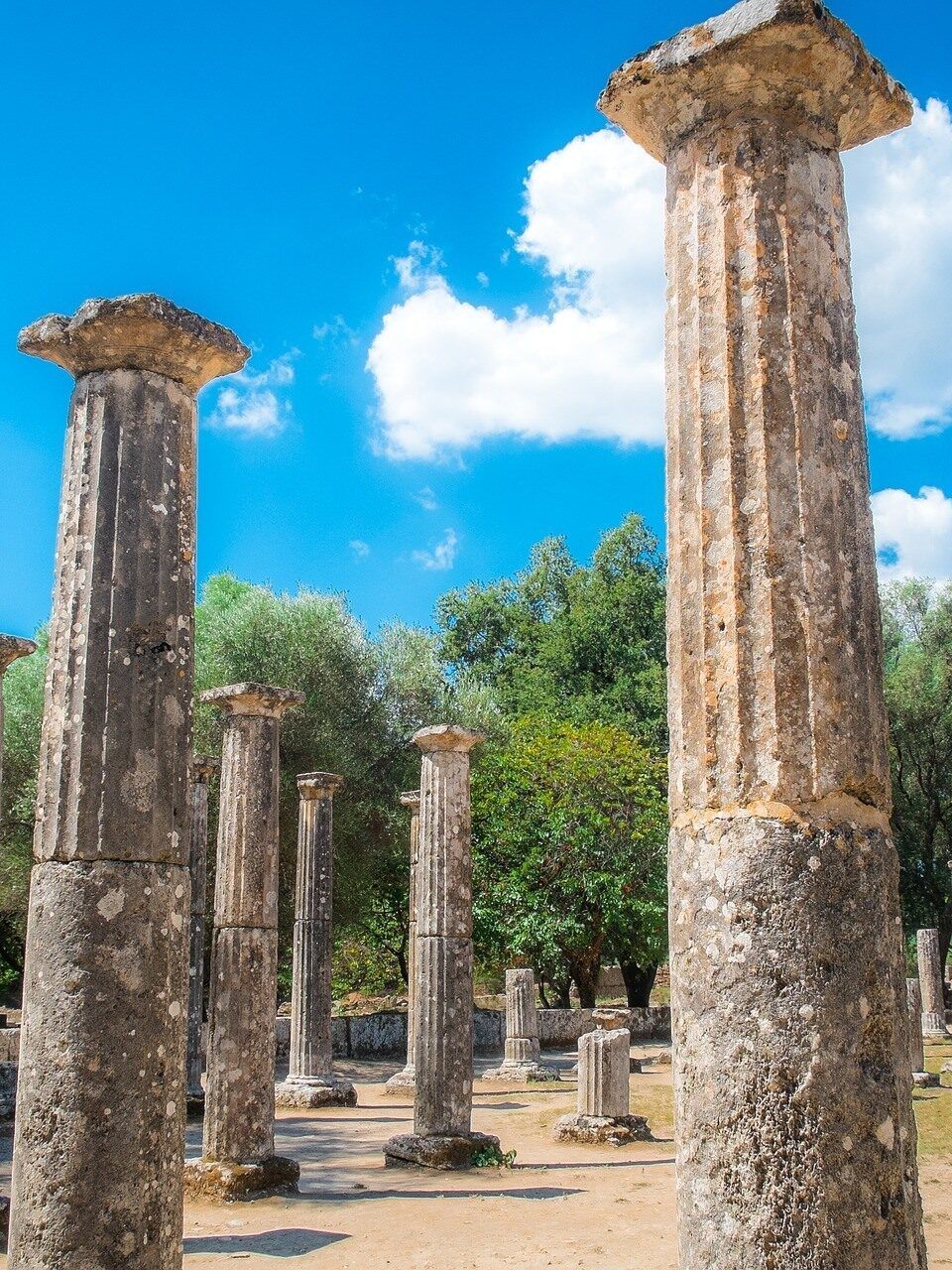 The Olympia Archaeological Site is one of the most historically significant places in Greece, being the birthplace of the first Olympic games in antiquity. For this reason, they still host a torch-lighting ceremony before the start of every modern Olympics to carry on the ancient tradition.
The most notable feature of the site is the temple dedicated to the gods Zeus and Hera. Before being destroyed in a fire, there stood here a famous gold and ivory statue of Zeus, which was once one of the Seven Wonders of the Ancient World.
There is also a museum that is worth visiting in order to learn more about the site's history. You can see both on this private tour.
20. Trek through the Samaria Gorge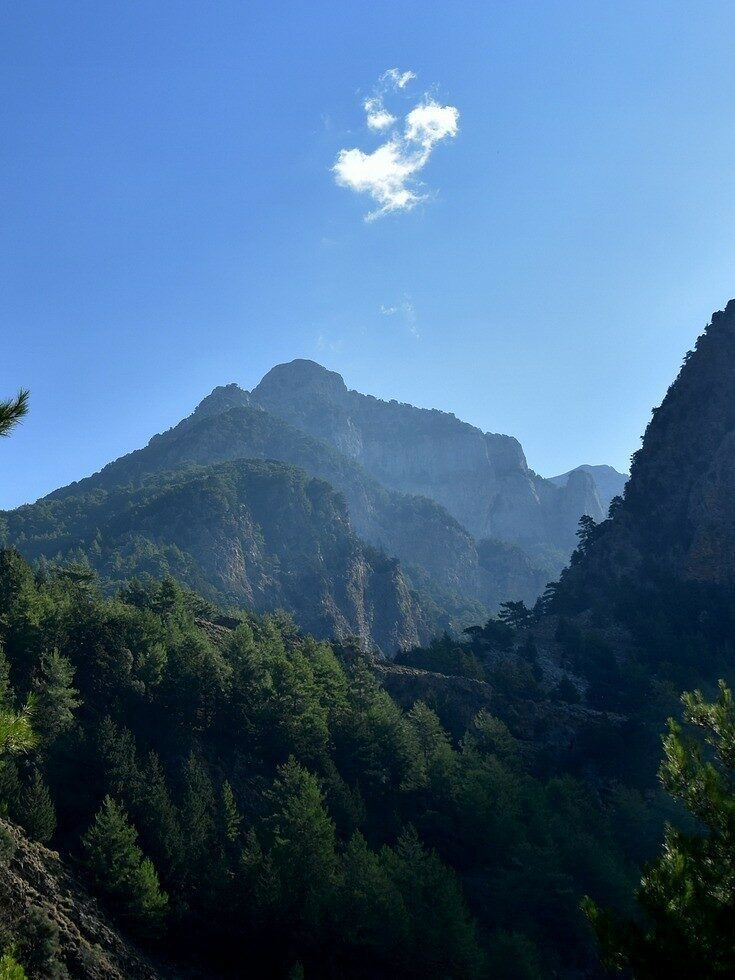 This is another one for all of you adventurers out there. The Samaria Gorge, 4,000 feet above sea level, is one of Europe's longest. It is in the White Mountains of western Crete and goes through a thousand-year-old forest.
Trekking through the Samaria Gorge is a highly sought-after experience and definitely worth hiring a guide or joining a tour to take full advantage of it. This full-day tour starts in Chania and ends in the charming village of Agia Roumeli.
19. Be a beach bum at Balos Bay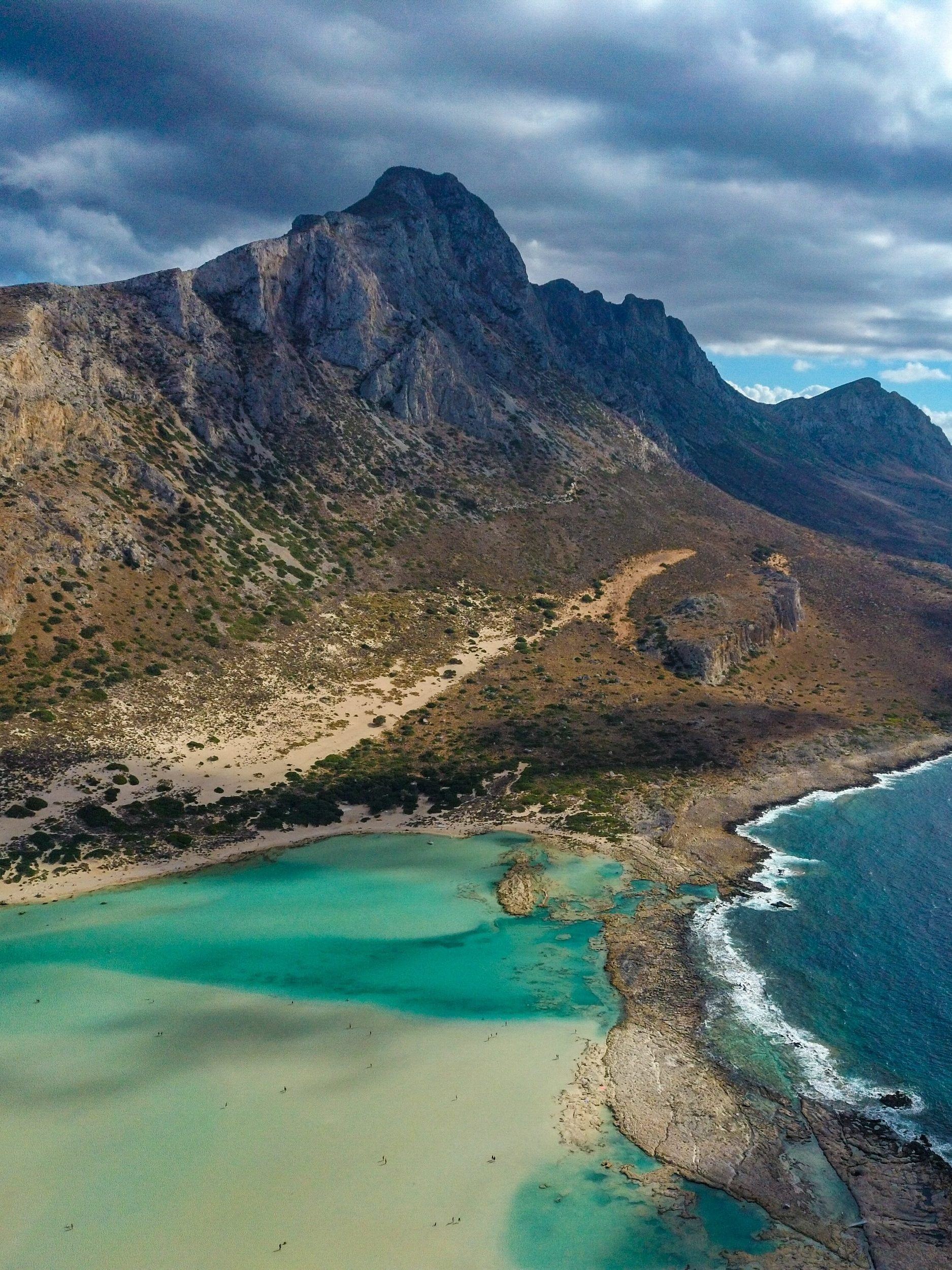 We all know that Greece is packed full of stunning beaches. Somehow, Balos Bay on Crete stands out from the rest, with its pillow-soft white sand and the crystal-clear shallow waters of the lagoon. Due to its beauty and ideal shores for swimming, it gets quite crowded during the months of July and August.
To get to Balos Bay, you will have to take a ferry from Kissamos port. Get there early in the morning for fewer crowds. You can also visit on a full-day tour.
18. See the birthplace of Zeus
Also on the island of Crete is Dikteon Cave, which is believed to be the birthplace of Zeus. This attraction is certainly more off the beaten path, which makes a visit a unique and less touristy experience. (It is near the village of Psychro, so it is also known as Psychro Cave.)
The cave itself is full of stalagmites and stalactites, which creates a spooky atmosphere. It was once the destination of many pilgrims who wished to pay their respects to Zeus; even today, you might find offerings to the ancient god inside the cave.
Intrigued? Check out this Land Rover Safari tour that makes a stop at Dikteon Cave.
17. See the man-made Lake Plastira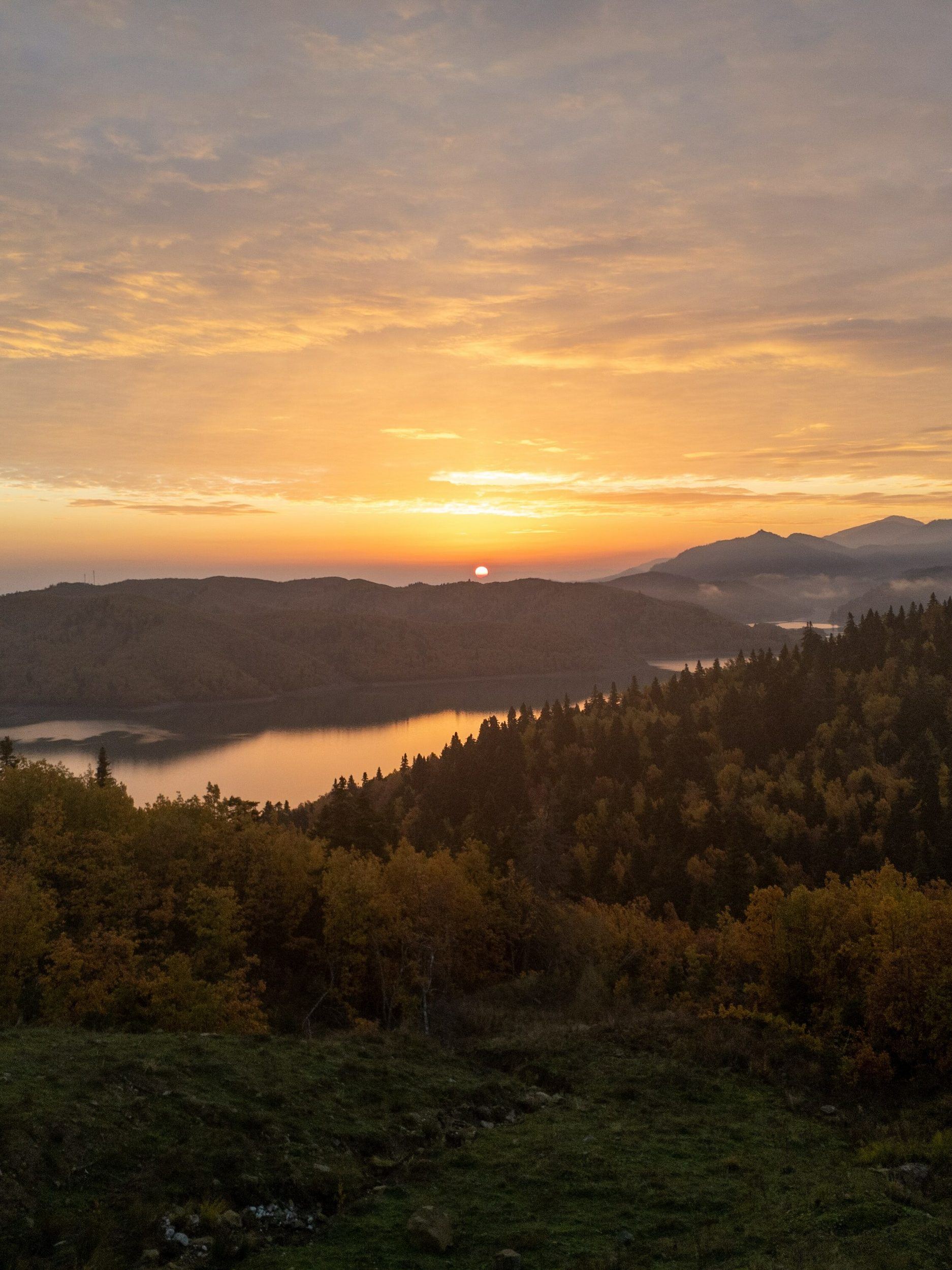 Nestled in the Agrafa mountain range is the serene man-made wonder of Lake Plastira. It's one of Greece's largest man-made lakes and attracts visitors who are looking for a quiet place to connect with nature. The lake is surrounded by bike trails, fir-tree forests, rock-climbing spots, and more. Other activities are horseback riding, kayaking, and exploring the nearby villages and monasteries.
16. Witness a miracle at Meteora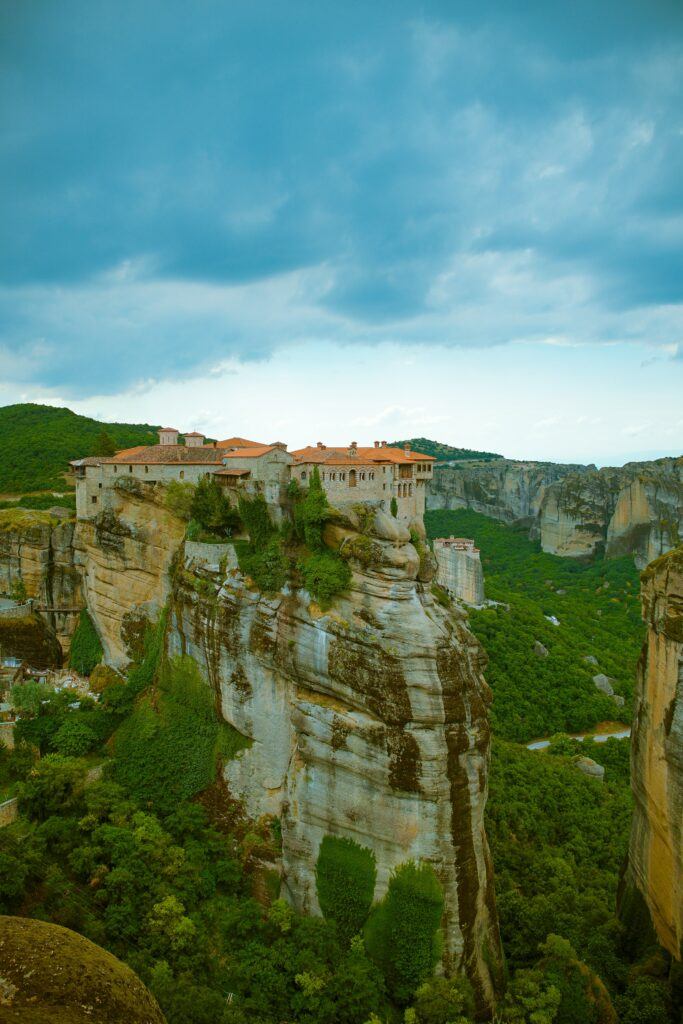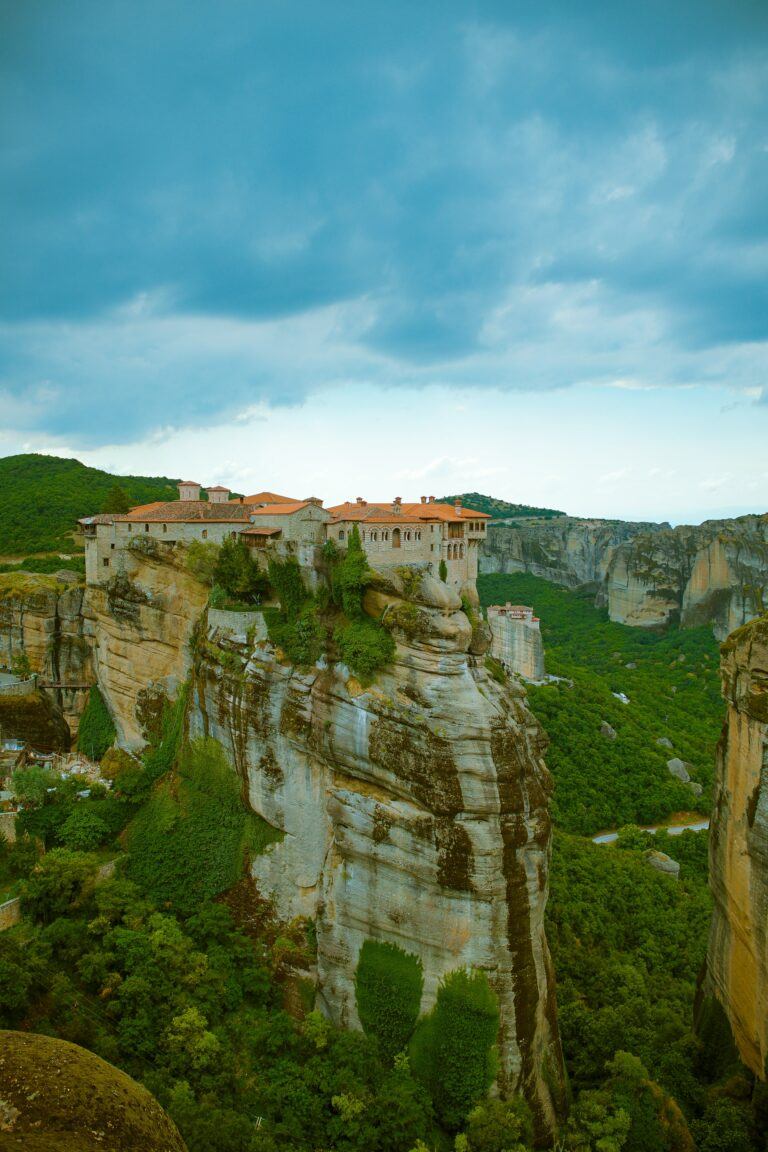 Meteora is home to some of the most astounding feats of architecture, with monasteries that sit on top of near-vertical rock formations. The natural pillars below the monasteries reach heights of nearly 400 meters (1,300 feet), like the one underneath the Monastery of the Holy Trinity.
Not only should you explore inside the monasteries, but you should definitely take advantage of the incredible panoramic views from their decks. Consider joining a tour to learn more about this UNESCO World Heritage Site.
15. Look for nymphs at Melissani Lake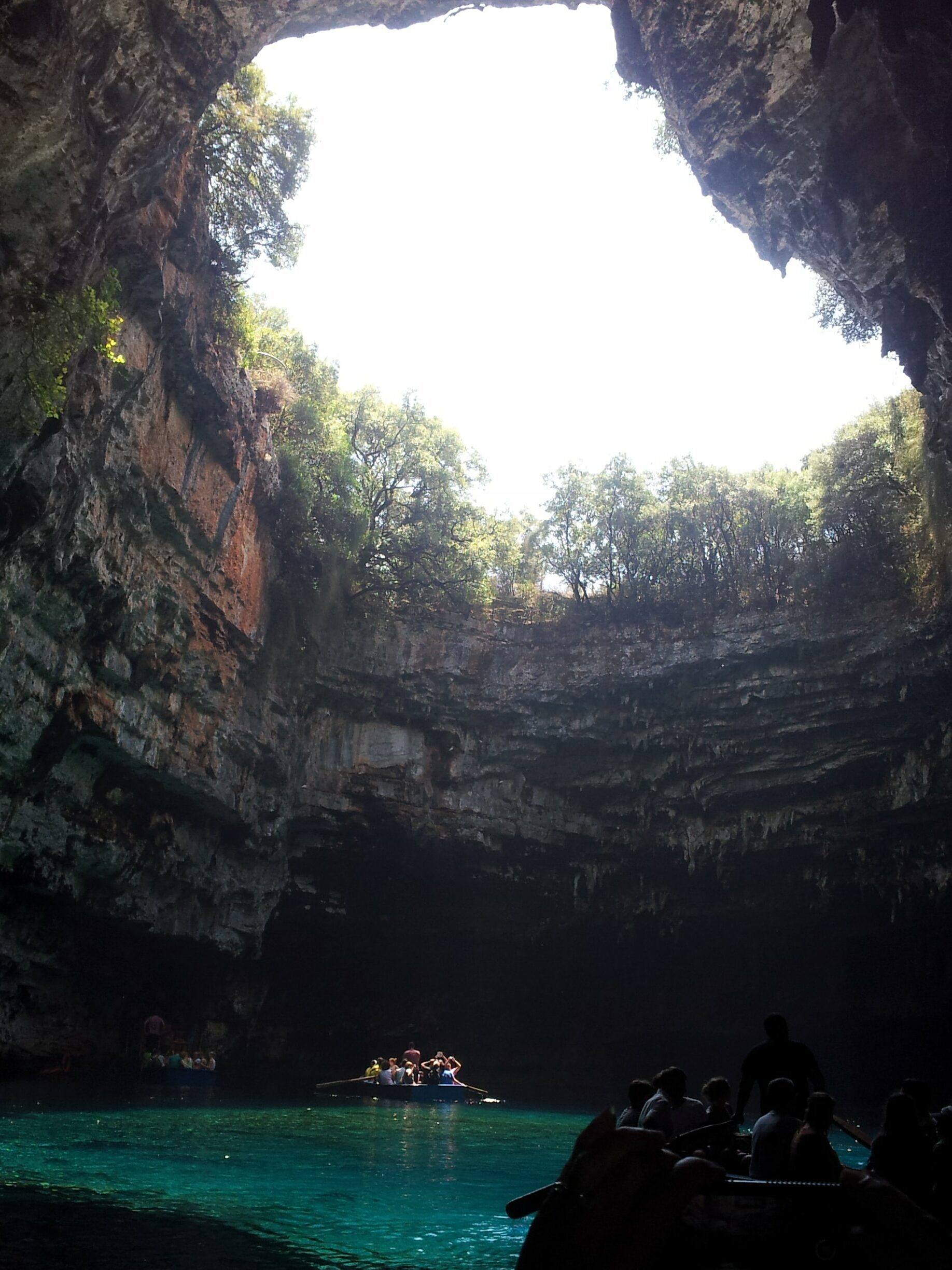 This B-shaped lake is inside a cave with algae and moss-covered stalactites hanging down from the stone walls.
Melissani Lake, an unspoiled natural wonder on Kefalonia Island, is famous for its legends regarding nymphs. During its excavation, third- and fourth-century figures of nymphs were found, giving meaning to the ancient stories. A visit to this magical spot will send your imagination running wild, thinking about these mythical creatures.
The turquoise waters of the lake are best enjoyed around noon, when sunlight can enter through the top of the cave-like structure in which it is located. Take a day tour of Kefalonia Island, which highlights this mystical lake.
14. Visit Ancient Corinth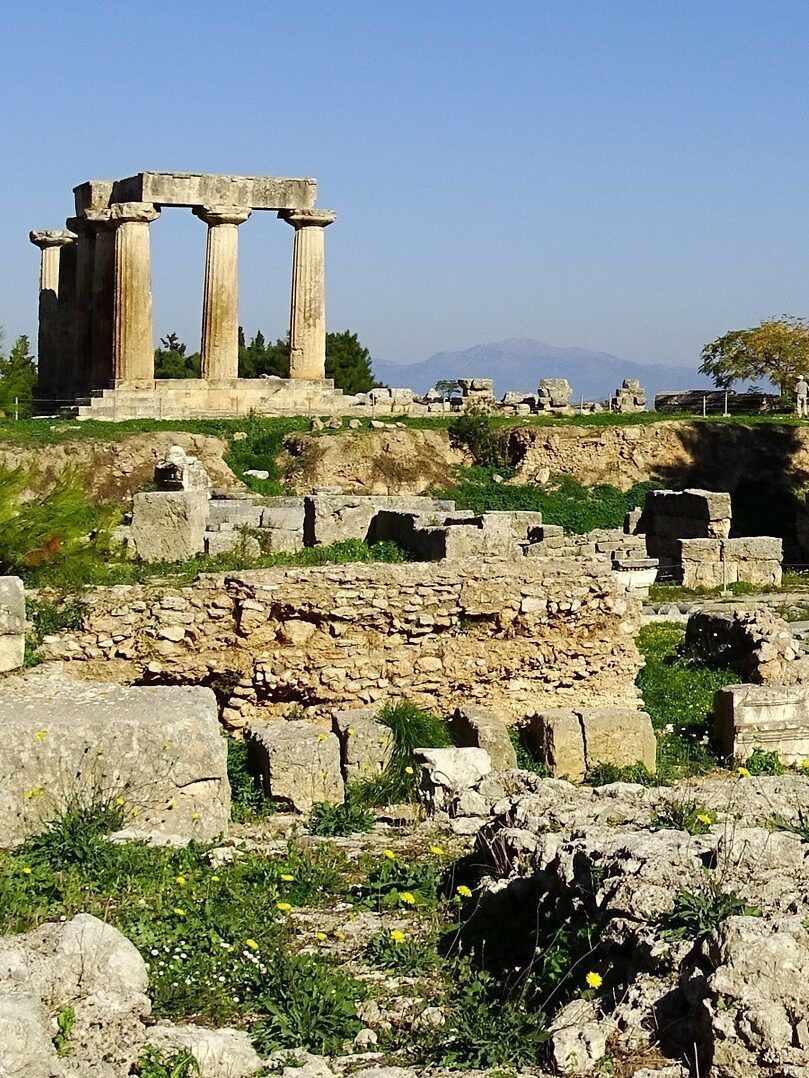 This ancient city is where St. Paul spoke to the Corinthians, making it one of the first places in Europe to embrace Christianity. The ruins are full of Greek and Roman relics, which showcase the area's architectural diversity. Because the ruins are situated so close to the village, visitors get a clear picture of the contrast between ancient and modern Greece.
There is a museum on-site that houses a variety of artifacts that bring the history of the ruins to life. If Athens is your base, consider this half-day tour of Corinth.
13. Bungee-jump at the Corinth Canal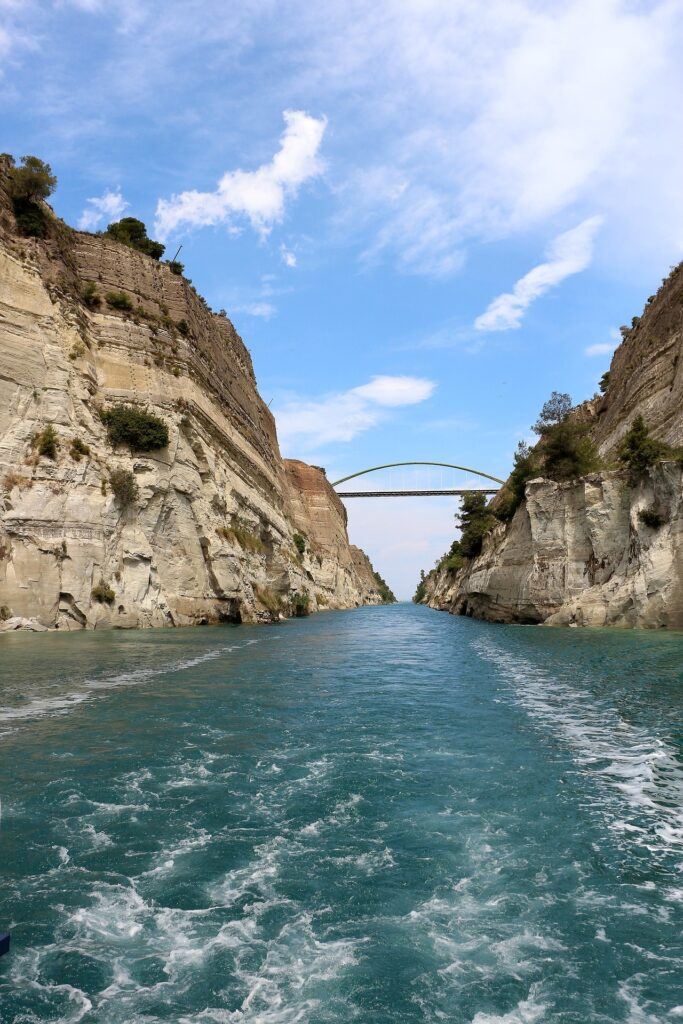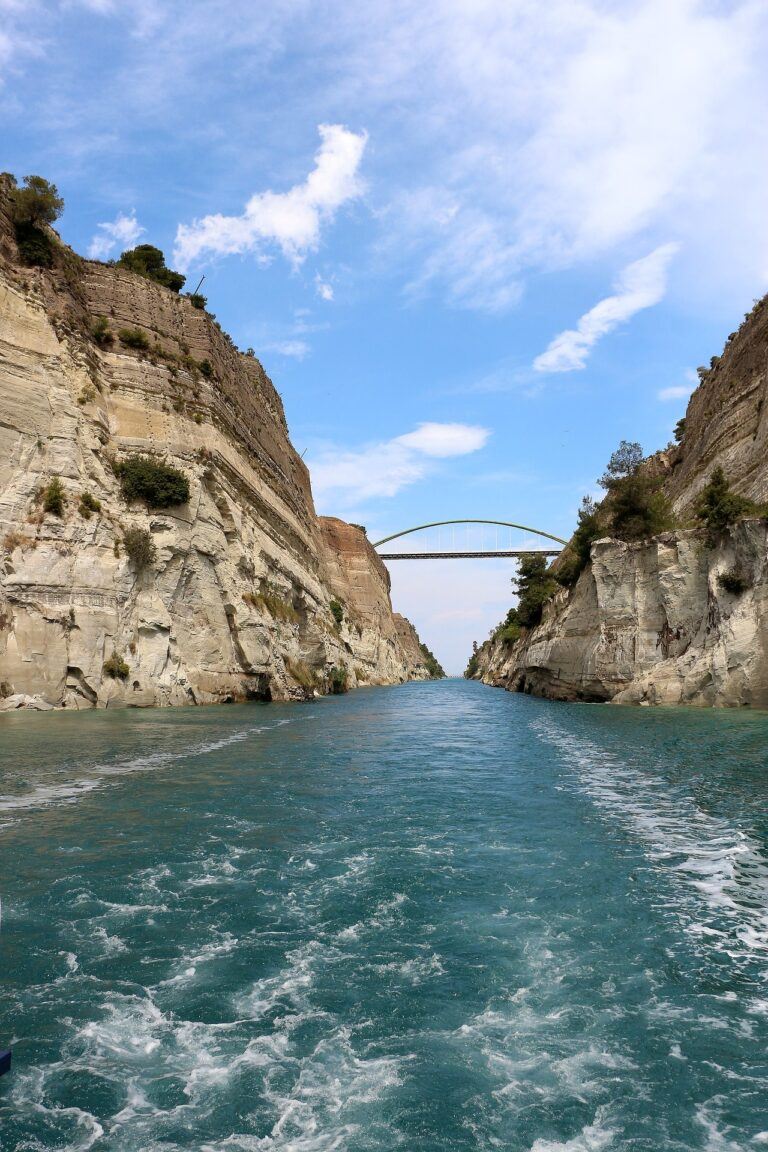 Looking to get your adrenaline fix while in Greece? This is the opportunity for you. The Corinth Canal is a man-made wonder — it literally took centuries to build and stands today as one of the most impressive feats of engineering of ancient Greece. Ships still pass through it today.
It's also the perfect spot for bungee-jumping. Zulu Bungy calls itself the most exciting bungee in the world and has the best reputation of any such company. This is definitely one of the more unexpected activities in Greece and worth a try.
12. Sip red wine in the Nemea Region
It's no secret that Greece is known for its superb wine, and there are plenty of wine tours throughout the country. Nemea, just southwest of Corinth, has some of the best reds. (It's also the site of Hercules' first task of twelve: to slay the Nemean lion.)
While you tour some of the region's most notable wineries, make sure to stop at the ancient stadium of Nemea to see the ruins there.
11. Drive through the Mani Peninsula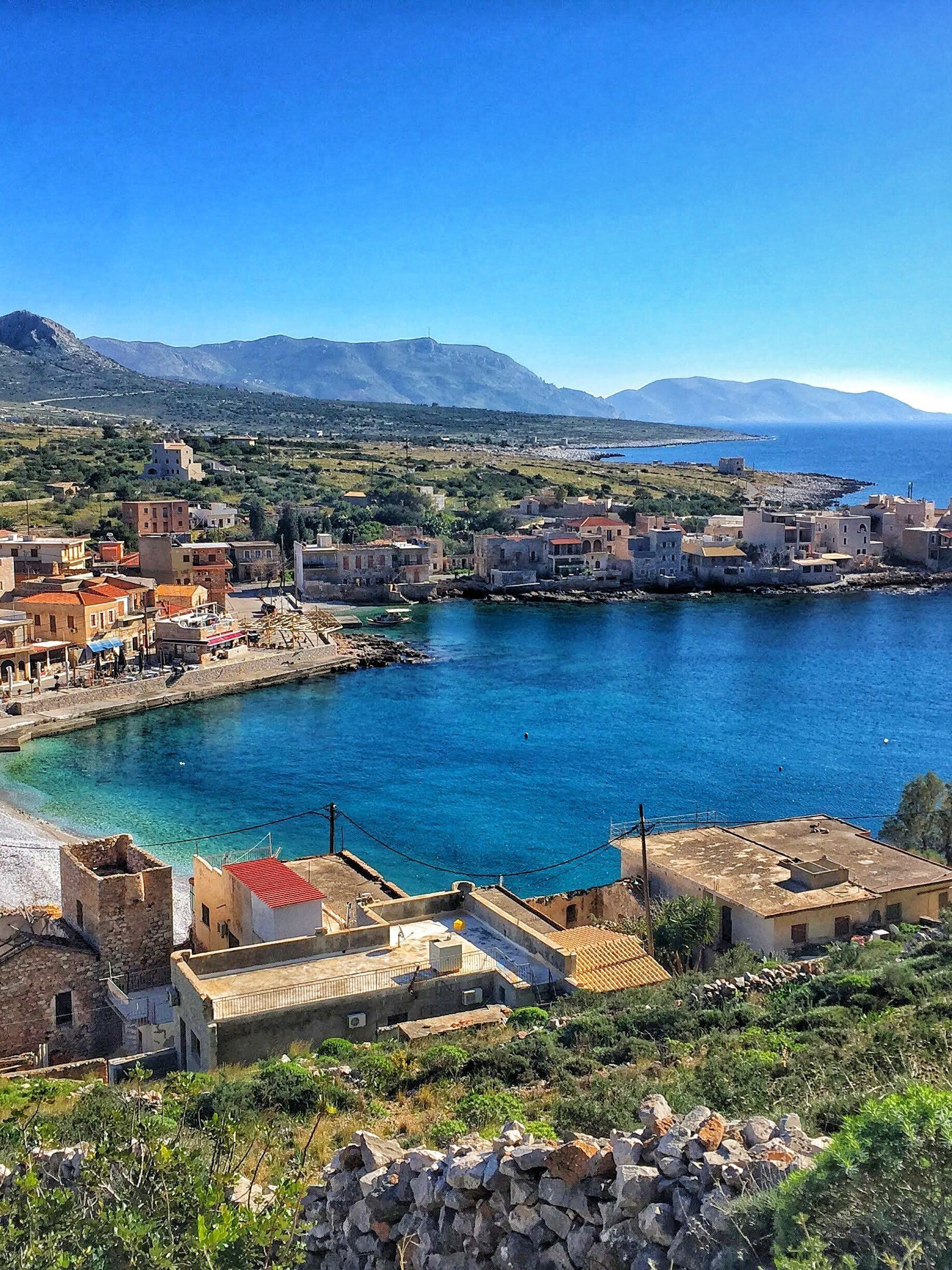 If you're like me and enjoy a good road trip, consider doing one on Greece's Mani Peninsula. This peninsula in southern Greece is home to a population who claim to be direct descendants of ancient Spartans. It's divided into two parts: the Outer Mani and Deep Mani. Each half has its own unique character.
Outer Mani is known for its quaint coastal villages that have a more authentic feel than other, more touristy places in the country. Deep Mani has a legendary coastline and is even less visited than Outer Mani. Being able to drive through both makes for the road trip of a lifetime, full of coves, seaside views, caves, and lighthouses.
10. Take a rack-railway train through Vouraikos Canyon
A rack-railway is a unique feat of engineering that uses cog wheels that latch onto the rail in order to help the train navigate steep terrain. Traveling along this type of railway is an exciting experience in itself, but even more exciting when paired with the magnificent views of the Vouraikos Canyon.
This train ride is only 22 kilometers (14 miles) long and goes between Diakopto and Kalavryta, through the Vouraikos Canyon. It's one of the top train rides in the world! Expect to see the Vouraikos River, flowing waterfalls, expertly crafted tunnels, and more.
Check the Odontotos Railway site for the train schedule and other useful information.
9. Buy local goods at Modiano Market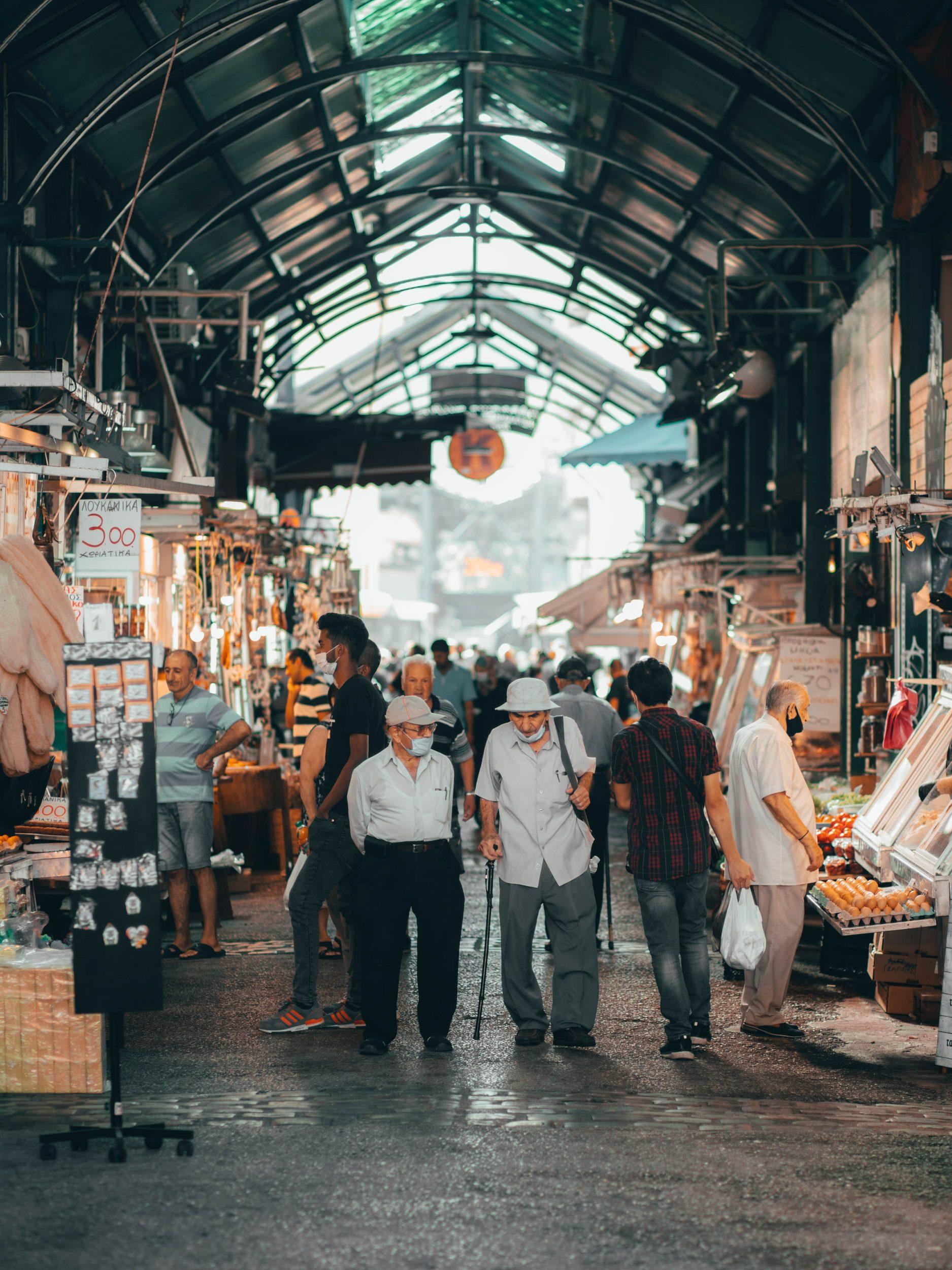 If you know me, you know I love a good market. In fact, I make it my mission to beeline it to the closest market in any new place I travel to. The Modiano Market in Thessaloniki is one of the absolute best places to indulge your foodie fantasies. It features local products, from spices to candies to cheeses and everything in between.
The Modiano Market's central location makes it one of the most bustling places in town. You'll find local people milling about, making their everyday purchases and eating at the food stalls inside. It's one of the best places to get a feel for the local food scene and culture, so don't miss it!
8. Immerse yourself in history at the Archaeological Museum of Thessaloniki
As one of the largest museums in Greece, the Archaeological Museum of Thessaloniki has an awe-inspiring collection of historical artifacts that will keep a history buff entertained for hours. The museum itself is an excellent example of stunning modern Greek architecture.
It's located in the heart of the city Thessaloniki, making it the perfect launching point for archaeological sites and other museums. Consider passing through to learn some local history and context before heading to other sites.
7. Peruse the Museum of the Olive and Greek Olive Oil
My mouth is already watering as I think about how delicious Greek olive oil is. Can you relate? The Museum of the Olive and Greek Olive Oil is the perfect place to immerse yourself in the entire process of olive oil making, from planting the trees to bottling the oil.
Here you'll also learn about the historical, cultural, and economic significance of olives, along with the myriad of ways that they are used. I mean after all, J-Lo allegedly accredits her agelessness to olive oil.
6. Get underground at the Vergina Royal Tombs Museum
Located inside a grassy burial mound, the Vergina Royal Tombs Museum is unlike any other. The museum houses the ancient tombs of Macedonian royalty, such as Philip II, who was buried with an ivory and gold shield, full suit of gilded armor, and other glamorous treasures.
Other tombs are lavishly decorated with mythic friezes; one of them is even thought to be the final resting place of Alexander the Great's son. If you want to check out this museum and other ancient sites nearby, this tour has an in-depth itinerary of the area.
5. Hike the Corfu Trail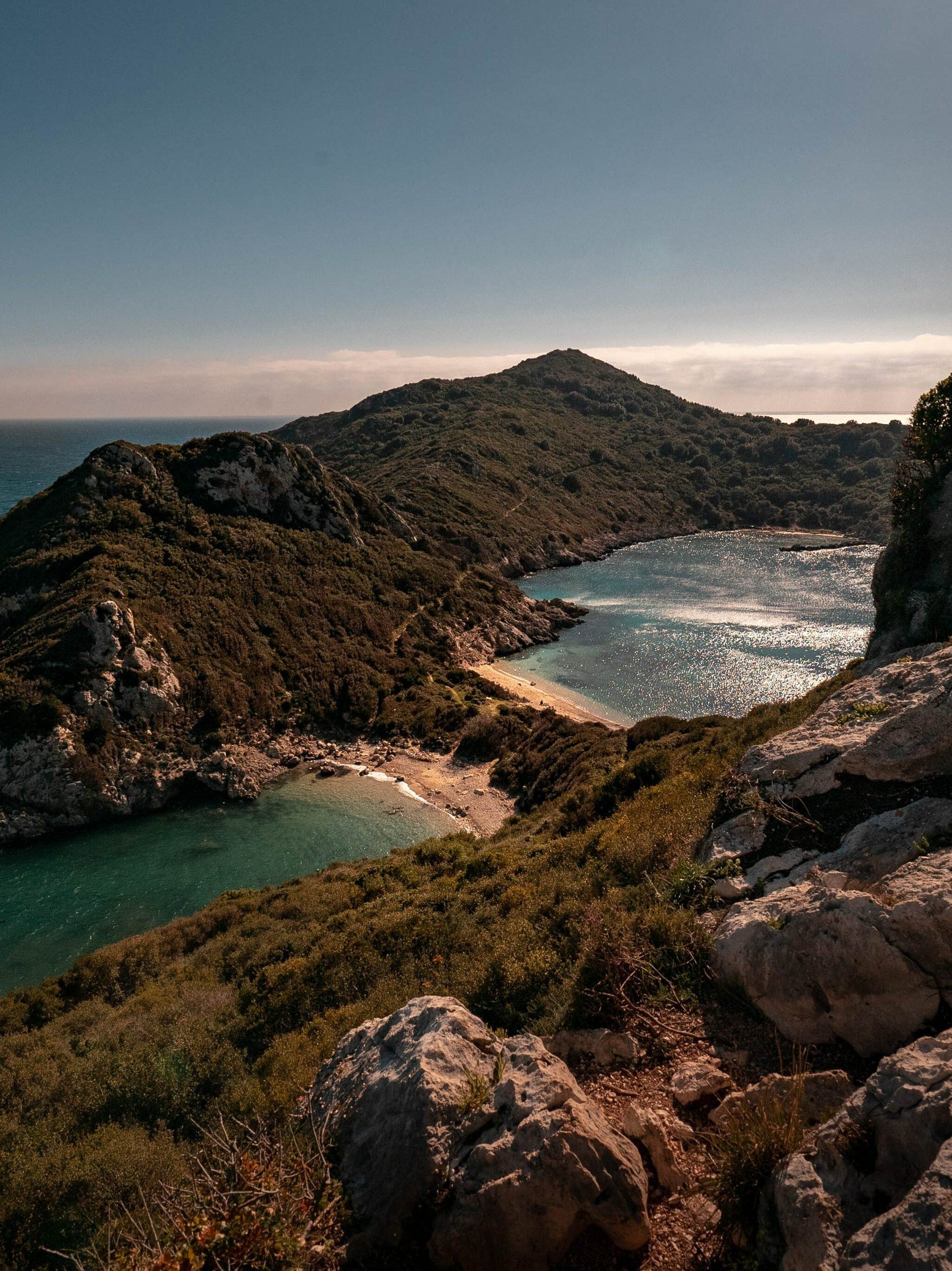 If you're looking to get way off the beaten path in Greece, consider hiking some or all of the Corfu Trail. This 220-kilometer (137-mile) trail boasts scenery that has been untouched by mass tourism. Expect to see virgin beaches, olive groves, rugged gorges, and much more along the way.
Hiking the Corfu Trail is still a relatively unknown activity in Greece, making it a great option for anyone who desires a bit of solace while traveling. There are plenty of options for where to hike, for how long, and where to stay along the trail.
4. Explore Mystras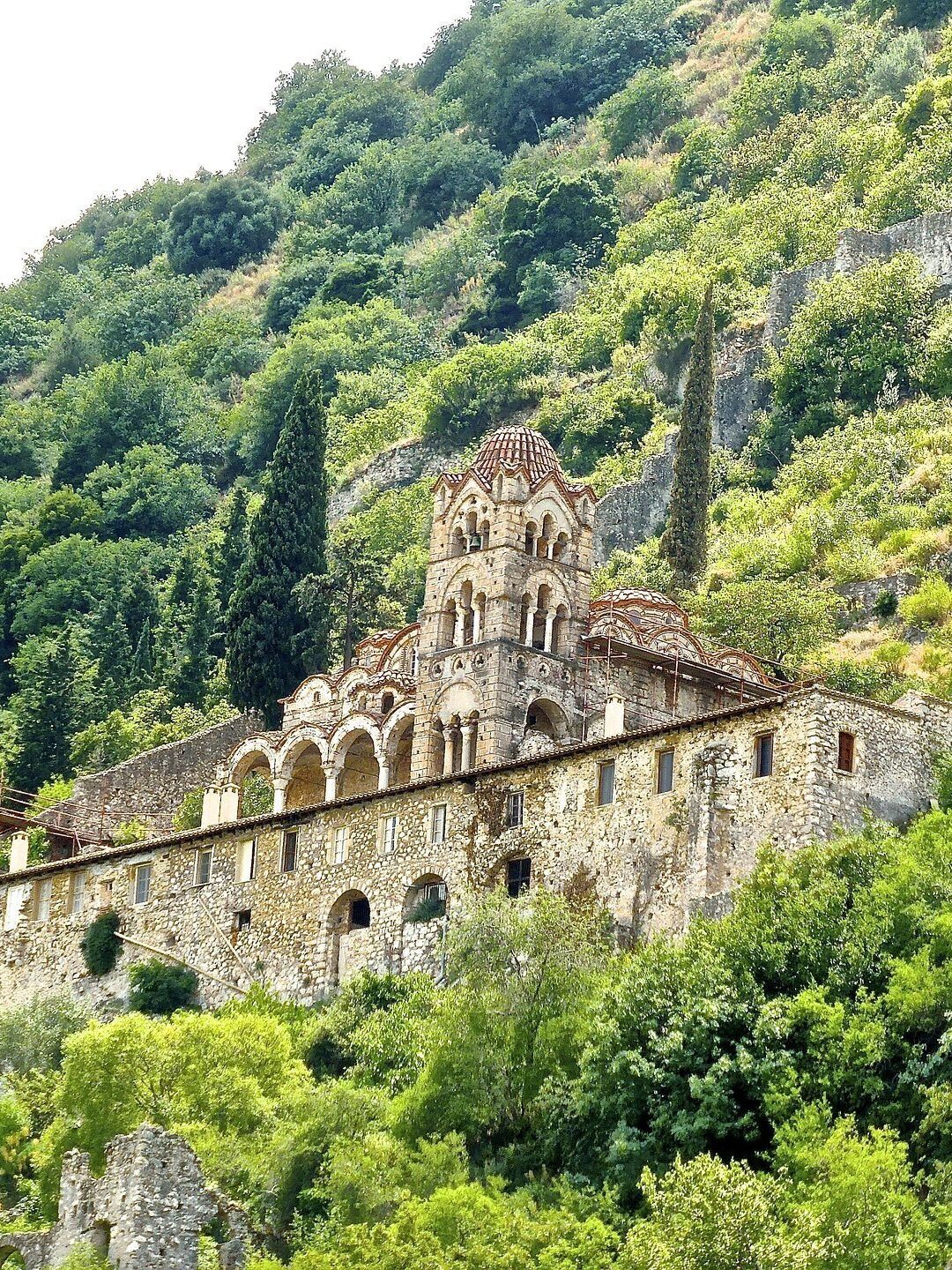 Located in the countryside of the Peloponnese region, this rural town is home to the Palace of Despots, idyllic chapels, and hilltop views. The town has held on to its laid-back, sleepy nature, mostly due to a lack of tourism, so it's the perfect place to relax and enjoy the rhythm of local life.
There are old footpaths throughout the surrounding region that make for perfect hikes, weaving through small settlements and forests. You'll find ancient ruins, historic cathedrals, and Byzantine monuments along the way.
3. Hike from Monodendri to Vikos through the Vikos Gorge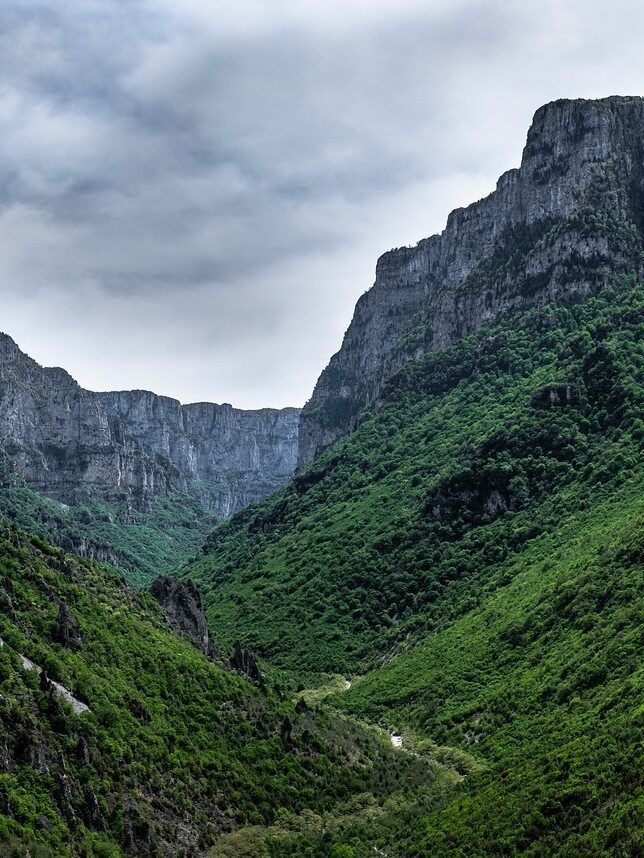 The Vikos Gorge is one of the world's deepest canyons; it is located in the Pindus Mountains of northern Greece. The gorge is part of Vikos National Park, which is home to some of the most diverse flora and fauna in Greece.
There's no wonder why it's one of the most popular places to hike in the country: as you move through the canyon, expect to see 5,500-foot cliffs, crystal-clear springs, and limestone and dolomite formations.
Most hikes start in the village of Monodendri and end in Vikos village, like this one.
2. Take a dip in the Edipsos Thermal Springs
If you want to pamper yourself, the healing thermal springs scattered across the city of Edipsos on the island of Evia are the perfect place to do so. Since ancient times, people have been visiting the magnesium-, calcium-, and iron-rich springs in search of healing.
On Evia, you might even find some beaches with semithermal sea water that has spilled over from nearby thermal springs. Sounds like an epic spa town to me!
1. Live your Mamma Mia fantasy at Skopelos Island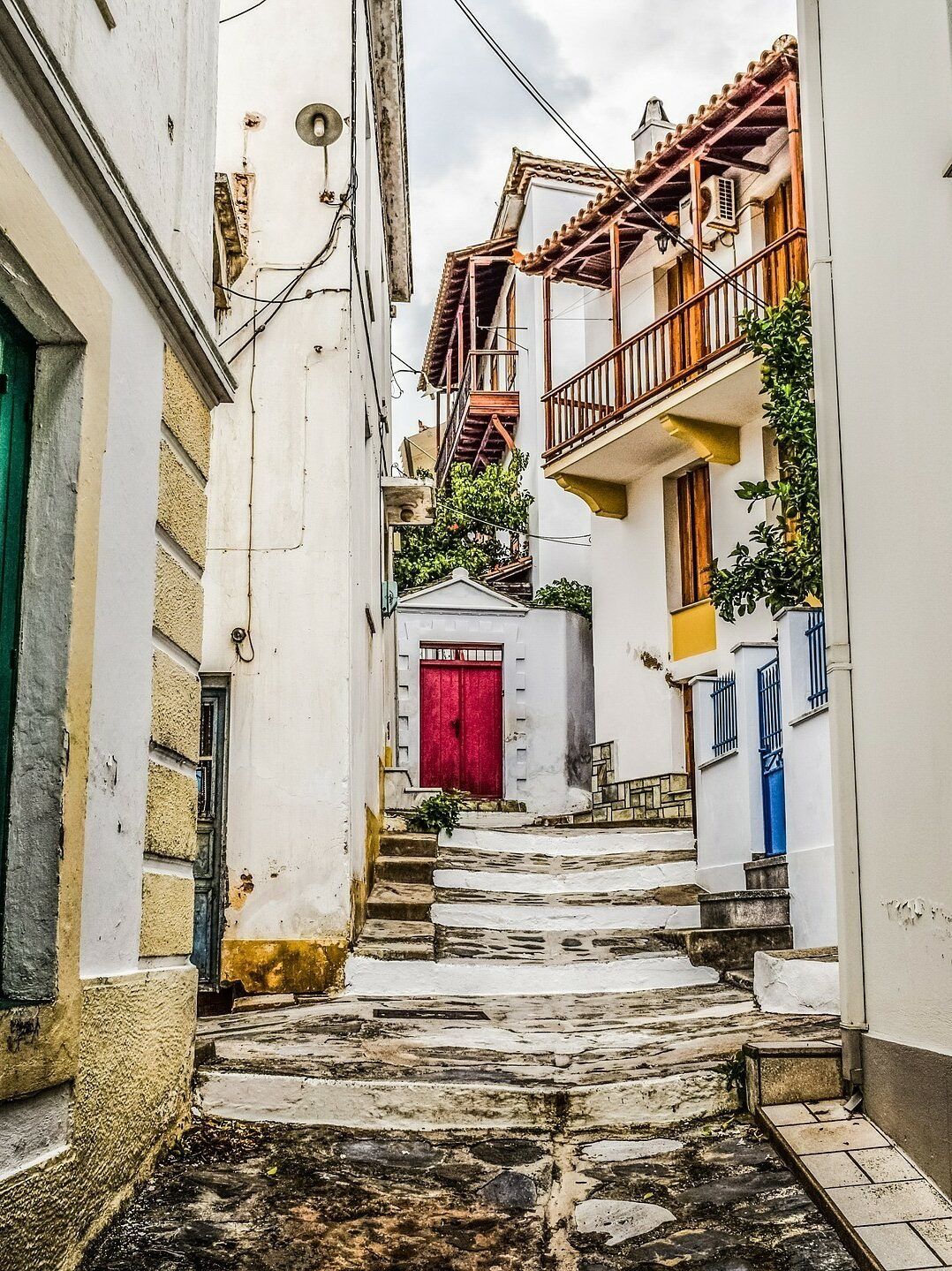 Even if it seems a little cheesy, visiting the filming locations of Mamma Mia is a fun and lighthearted way to enjoy the beauty of Skopelos Island, which is home to the famous wedding church from the movie. This tour will take you there, along with other locations.
You can also go for a swim at Panormos Beach, one of the most beautiful beaches on the island and the site of many panoramic shots from the movie.
Pin me for later:
This list is by no means exhaustive , but I hope it gives you enough variety and inspiration for your trip to Greece. With so many distinct regions with their own historic treasures, beautiful views, and unique cultures, you could spend months traveling around the country and still only skim the surface of everything there is to do and see there.
Have you been? Let us know what your favorite places in Greece are!
Click to read more posts about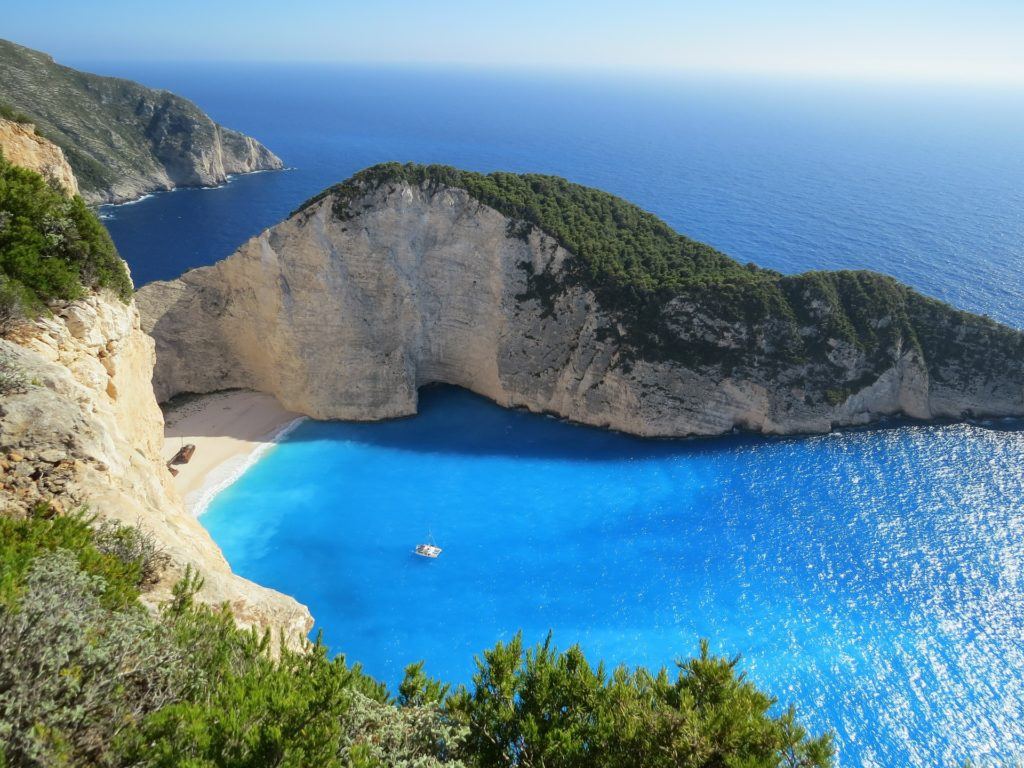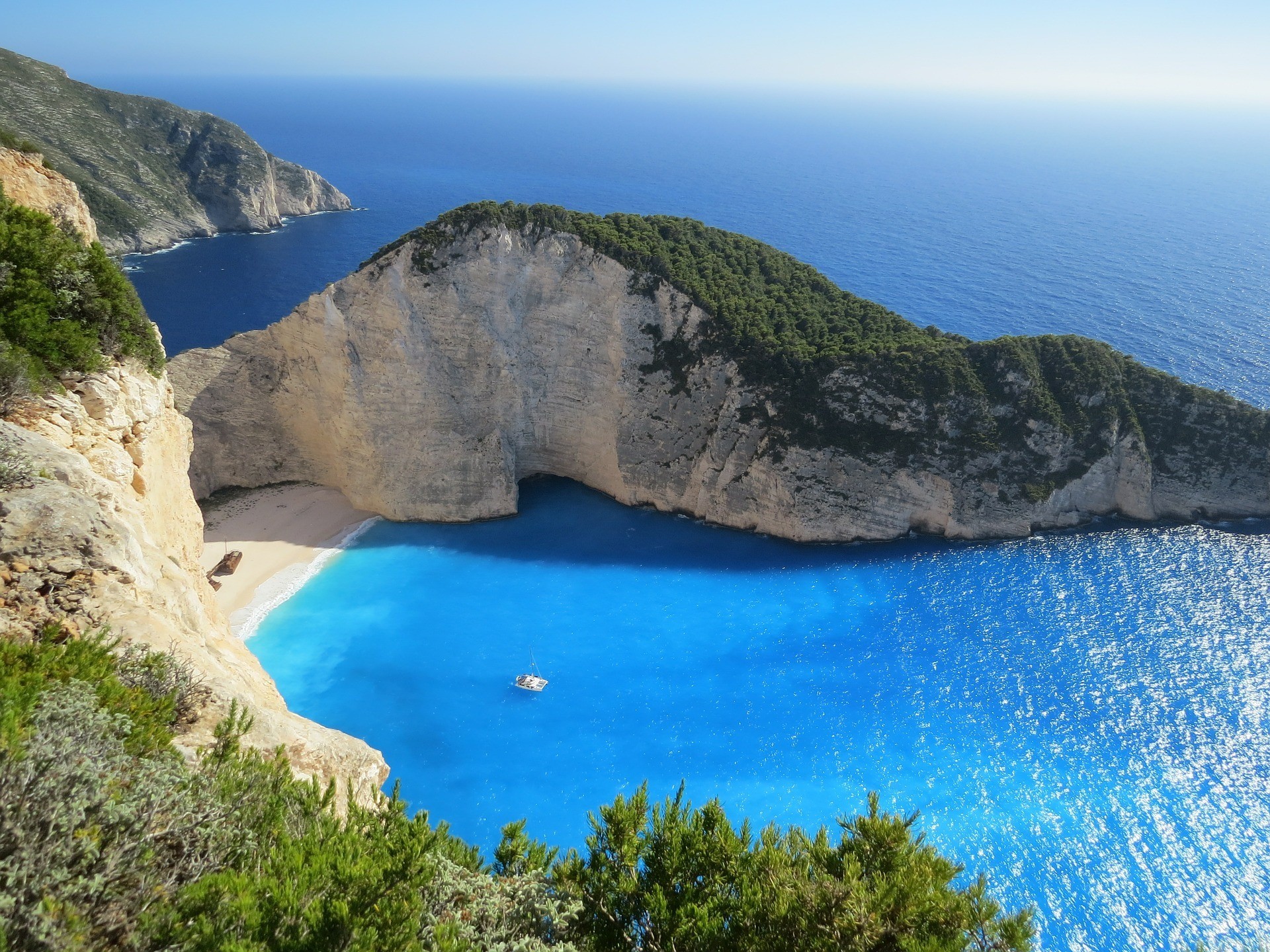 Greece