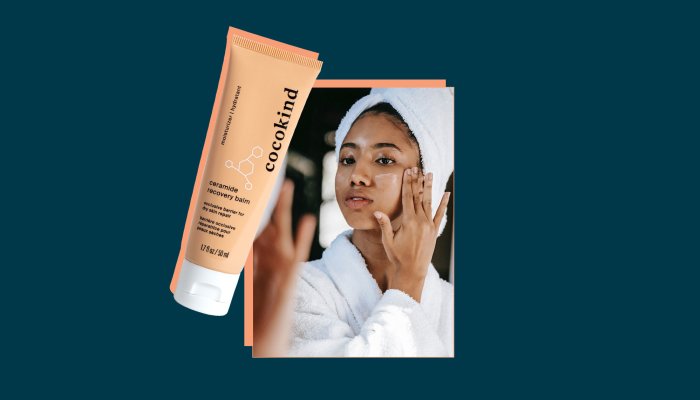 I have combination skin, which means I tend to accrue oil on my chin and around my nose, yet I remain painfully dry everywhere else. My forehead notably appears parched during the chillier months, thanks to the brutal NYC winds and my apartment radiator; I once even mistook my dehydration lines for premature wrinkles. True story! 
I love cocokind's rich yet non-greasy formulas (their Resurrection Polypeptide Cream is also a winner in my book), so I was super excited to test this recovery balm ahead of launch. Rather than applying as an allover slugging balm, though, I targeted my roughest areas: my forehead, neck, and décolletage. I also applied some balm on my lips, for good measure (because, yes, lip slugging is a thing you should be doing). 
Come morning, I was pleasantly surprised to find my skin looking supple and hydrated. It felt so soft, in fact, that I kept running my fingers over it in disbelief. The results are really that good. My forehead lines also looked way smoother—practically nonexistent. I kept the balm on my desk with me during the day, too, to rub over my cuticles and replenish my lips. Remember: This is a multipurpose balm that delivers hydration all over, and my hands could certainly use the extra love. 
Overall, I'd say the term "skin salve" is just right. cocokind's Ceramide Recovery Balm is a true savior that calms and nourishes your skin without feeling too heavy or greasy. I should note, I'm currently on a trip to the Arizona desert and have made this my go-to moisturizer. And I'm happy to report that I have awoken 100% flake-free. As someone whose skin easily withers up out West, I consider this a true success.