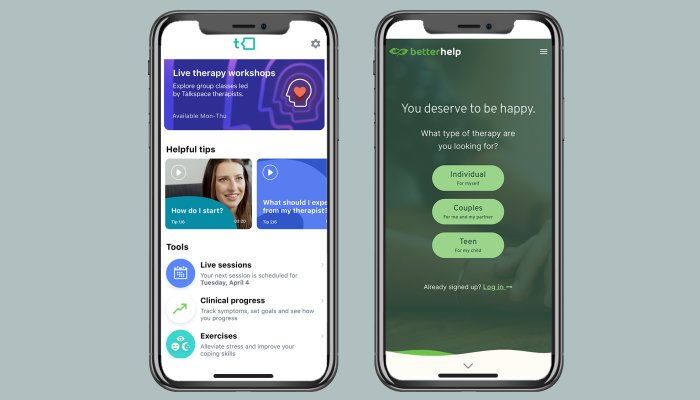 After testing both online therapy apps, we discovered a few important things to consider when choosing between Betterhelp and Talkspace. 
First, consider the services each company offers. If you seek psychiatric services in addition to talk therapy, Talkspace is the better option for you, since Betterhelp doesn't offer psychiatry and therefore can't diagnose or prescribe medication. That said, Betterhelp's sister might be a better choice for those looking for more focused care, such as therapy services for the LGBTQ+ community or teens. For couples, both companies offer relationship support, though Talkspace is the only one that offers it within the same app. If you wish to receive couples therapy from Betterhelp, you'll need to go through its sister site, Regain.
Cost is another important factor to consider when deciding which online therapy app is best for you. Out-of-pocket, Talkspace costs slightly more than Betterhelp. Keep in mind, Talkspace is also the only therapy provider (at least, of the two) that accepts insurance, making it entirely possible to receive therapy sessions for the price of your insurance co-pay fee, depending on your provider. Before choosing Talkspace over Betterhelp, first check to see if Talkspace accepts your insurance and how much each session costs with your coverage.
The subscription plans are also worth looking at, especially since they both have different offerings. With Betterhelp, your subscription includes messaging, video, and phone therapy sessions and the cost is based on your location, preferences, and therapist availability. Talkspace has three subscription offerings, each offering a set price point. As outlined above, the cheapest option gives you access to a therapist through messages, the mid-range plan gets you therapy through messaging and four video calls per month, and the top-tier option gets you messaging, video, and workshop access. 
If you wish to complete your therapy sessions over the phone, or to have more options depending on how you feel, Betterhelp might be the better option, since every user has access to messaging, phone, and video calls.