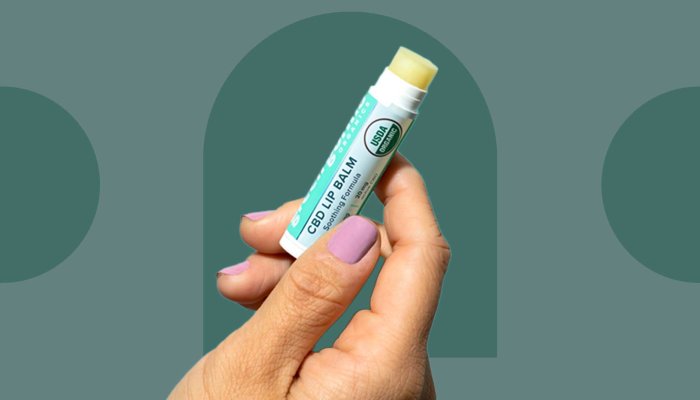 While research around hemp CBD is still in the early stages, some evidence suggests it may be a helpful tool for supporting the body's inflammatory response1 and soothing2 dry or cracked skin.
"Cannabidiol, commonly referred to as CBD, is one of the many cannabinoids found in the Cannabis sativa plant," explains Bonney. "It has a range of therapeutic benefits, including relieving aches and inflammation in the skin. Since CBD has anti-inflammatory and analgesic properties, it can also help to soothe and moisturize dry, damaged lips. Some of the pros of CBD lip balm are that it works quickly and also doesn't cause lips to feel greasy." 
While CBD may be a helpful aid in a lip balm, it's important to pay attention to the other ingredients, too. "The lips lack glands, so they don't naturally produce oil," Bonney says. "Picking a formula with protective oils, such as avocado oil, coconut oil and almond oil, will have a beneficial additive effect."
Bonney also notes that, since lip balms can inadvertently be ingested, it's particularly important to reach for high quality products and take note of the THC content. Every balm on our list uses full-spectrum hemp CBD, which contains 0.3% or less THC by dry weight. This is within the legal U.S. federal limit3 and won't produce intoxicating effects. 
Full-spectrum hemp is often hailed as a superior source of CBD, as it includes a full array of the compounds of the cannabis plant (such as cannabinoids, terpenes, and flavonoids), providing what researchers call the "entourage effect." Still, if you'd rather avoid THC entirely, our roundup of the best CBD balms includes a few CBD isolate options that can certainly double as lip balm.