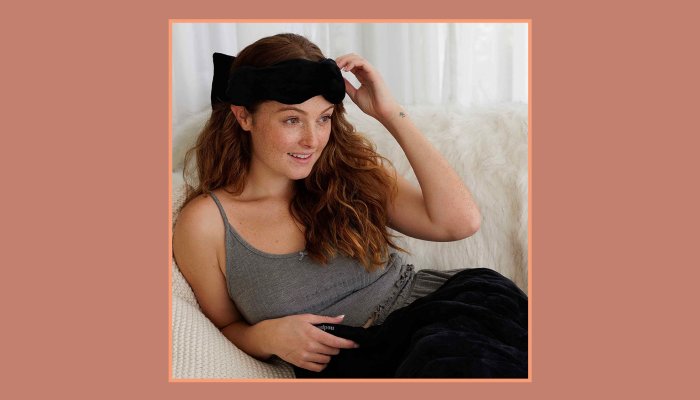 Another gentle-pressure pick, this is a great choice for side sleepers looking for a weighted sleep mask that won't dig into their face. Its versatility, comfortable fabric, and low maintenance upkeep make it a favorite among many. The nine-ounce mask has a scalloped, single-strip design featuring four weighted pods, all filled with oval-shaped BPA-free, polyethylene plastic pellets. One side is covered in jersey cotton for a cooler feel, while the other has plush microfiber fleece for cozy warmth.
Instead of hair-snagging elastic or velcro, this mask has a keyhole slit on one end, so you can pull the other side through to your desired tightness. Many side sleepers simply lay it over their eyes in bed, since the material is slightly bulky.
For added cold therapy, simply toss the mask in the freezer before using. Unlike more delicate masks, this one is machine-washable. It comes in a variety of colors, but the lighter shades aren't as effective at completely blocking light.
This sleep mask has become an Amazon bestseller, with over 2,500 5-star ratings. People enjoy its comfortable feel and lack of restriction. According to one satisfied customer, "All I have to do because I'm a side sleeper is place it over my eyes and put the rest of the weighted part over the top of my head. If I roll over I re-adjust. Absolutely no light gets through and it is comfortable. I have an extremely sensitive head and this is lightweight and I haven't gotten a headache. I highly recommend [it]." While most find it very comfortable, some users didn't like having to reposition it throughout the night.