Need a breath of fresh air? It's time to explore Grand Junction. Located an afternoon drive west of Denver, this is the gateway to nearly two million acres of protected red rock landscapes.
This part of Colorado doesn't get as much attention as Boulder or Denver — and that's precisely why it's worth visiting. Off the grid, this area is ripe for exploration.
Whether you're into biking, hiking, fishing, or golfing, this outdoor lover's paradise is a prime year-round destination.
Located in the heart of Colorado's Wine Country, the natural beauty of this region will knock your hiking boots off!
On my recent trip to Grand Junction, where I stayed at Gateway Canyons, I fell in love with this region. The area, known as the Colorado Western Slope, is tucked away beside the border of Utah.
Here are a few of the top things to do in Grand Junction, Colorado.

Where to Stay
This adventure resort is owned by the founder of Discovery Channel. Located just under two hours outside of Moab, the resort has a dream location at the rugged border of Colorado.
Focused on the natural aspect, it's all about embracing the local environment.
You can easily combine a stop here with a trip to Moab, and it's a common itinerary. Gateway Canyons, however, is literally the only accommodation option in the area so it's love it or leave it.

Shop in Downtown Grand Junction
After walking around for a bit, it struck me: there are no big box stores here. Instead, there is a mix of candy stores, shops for outdoor gear and kid stuff, galleries, weekly farmers' markets, and eclectic boutique shopping.
For a real treat, pop into Enstrom Candies to watch them make their almond toffee.
It's a perfect souvenir. When you need to refuel, check out Kiln Coffee Bar. Their Thai lemon-lime bar is one of the best gluten-free pastries I've ever had.

A Day of Drinking
In the Wine Country of the Western Slope, you'll find some of the best vintages of the region. Known for its peach orchards and premium vineyards, Palisade is a charming little town.
The Peach Street Distillers is a hopping spot with fabulous drinks. They have an on-site food truck, a great outdoor patio, and live music at the weekend.
This is a prime spot for a night out — just be mindful that the liquor is made in-house and drinks are super strong!
Craft beer lovers will want to plan time to venture across the street to the Palisade Brewing Co. You'll find cozy outdoor seating here as well and a great atmosphere.

Colorado National Monument
Colorado National Monument is at its prime during sunrise. It is well worth having an early night and arriving at this stunning spot at sunrise.
There are fewer tourists and the morning light leaves the landscape glowing.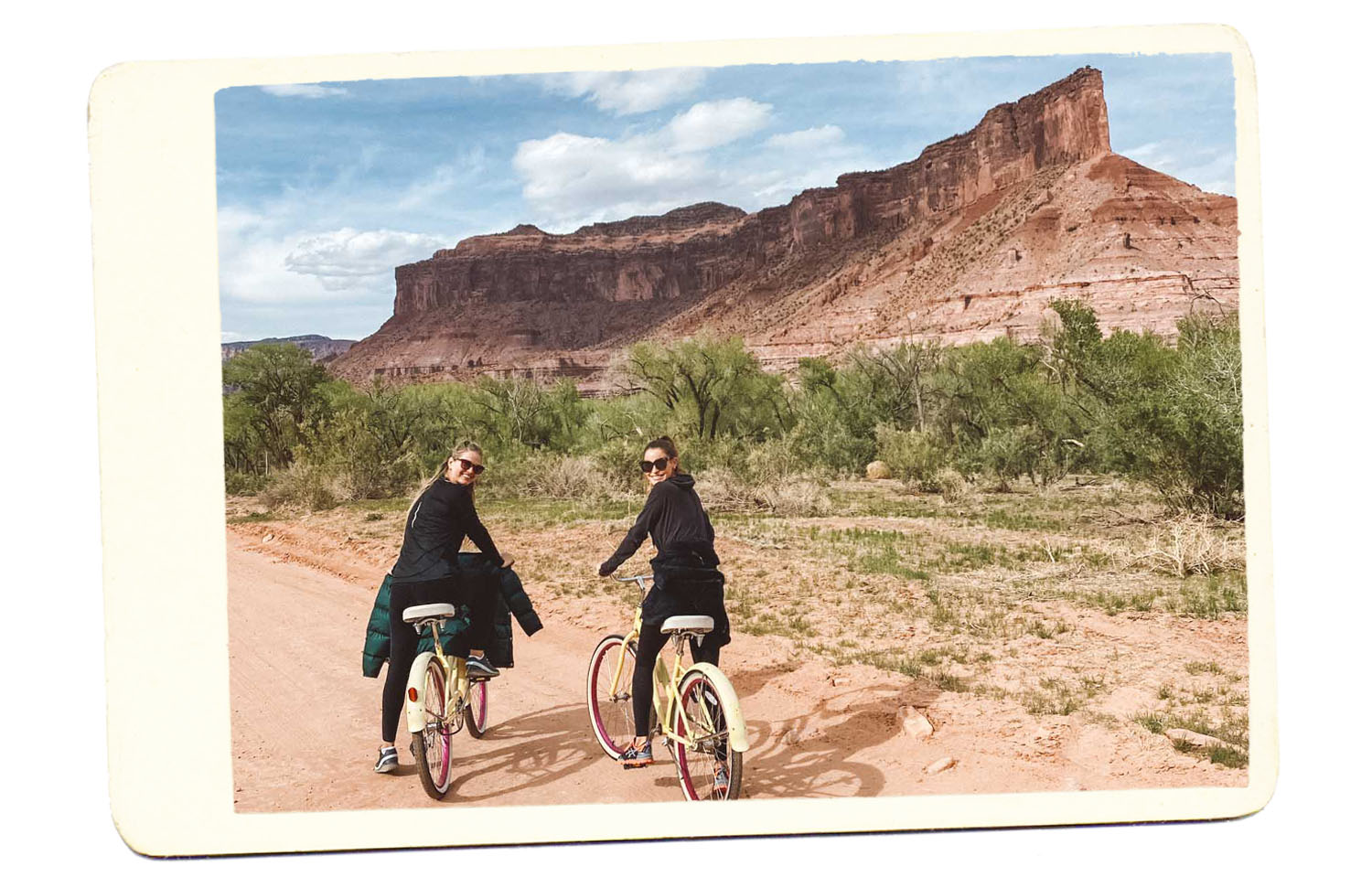 Go Biking (or Skiing)
Craving an adrenaline kick? Nothing will get your heart racing faster than downhill biking at Powderhorn Mountain Resort.
Located on Grand Mesa, the planet's largest flattop mountain, there is a downhill mountain bike park and plenty of space to explore. From atop the mesa, you'll be rewarded with sweeping views of the valley.

Museum of the West
If you've ever wondered what life was like as a pioneer, this is the place for you. You can dig deep into the scientific and cultural heritage that has created the Colorado Plateau.
Note: The museum is closed on Sunday and Monday so plan ahead.

Art Murals
Check out local artists and grab a few vacation selfies on Riverfront Trail. What used to be the underbelly of highways overpasses and rundown piers is now a vibrant collection of arts.
Wander down Riverfront Trail or grab a bike and make your way down to the line to find your favorite mural.

 Summit Grand Mesa
Whether you hike it or ski it, the Summit Grand Mesa is a great year-round destination.
Not only is this the biggest mesa in the world, but it's also home to 300 freshwater lakes. Pick up a fishing pole or just lounge by the water's edge and watch the world go by.

 Visit Fruita
Ten miles outside of Grand Junction, you'll find the artsy little town of Fruita.
Check out the townie watering hole, Copper Club Brewing Company. With live music, trivia nights, and board games, it's the perfect spot to hang out and chat with locals.
Once you've worked an appetite, grab a piping hot slice from Hot Tomato Pizza. They've got the best pizza in town and you can either move over there for a while or bring your pizza back to the brewery.

Day Trip to Glenwood Springs
Grand Junction is a prime base for exploring the wider region. Once you've seen the core sites of the city, keep on truckin'. There are plenty of day trip options.
My top pick is Glenwood Springs.
About an hour and a half drive eastward from Glenwood Springs, this gorgeous small town is worth exploring. Home to the largest outdoor natural hot spring pools in the world, this is a dream place for a chill afternoon.
The downtown area is adorable and full of foodie delights. Treat your sweet tooth with donuts from Sweet Coloradough then make a detour to Bluebird Cafe for a premium cup of joe.
Before dinner, take the 4,300-foot-long gondola ride up to the top of the mountain for a sweeping view of the valley. There's an amusement park up there so you can make a day of it if you'd like.
When you are ready for dinner, a drink, or just a hard-earned dessert, The Pullman is the place to be.

Heading back through Denver? Grab my Ultimate 3-Day Denver Itinerary.