This guest post is written by Theresa McKinney, a USVI enthusiast and travel blogger:
St. Thomas is a Caribbean paradise in the Lesser Antilles, and the most densely populated of the US Virgin Islands. If you wish to visit this island, you won't be alone; it has one of the busiest cruise ports in the Caribbean. That said, a trip to St. Thomas USVI offers the chance to swim in clear, turquoise waters and take in amazing views from its lush peaks.
Americans especially love visiting St. Thomas due to its convenience. As the US Virgin Islands are an American territory, no passport is required upon entry or return from the islands. Additionally, many major US cities offer direct flights to St. Thomas, which makes it even more of an obvious choice for a tropical escape.
If a trip to this mountainous island is calling your name, below you'll find the perfect itinerary for one week in St. Thomas USVI. Whether you seek lazy beach days, time exploring nature, or adventurous day trips, it's all covered!
How to Spend One Week in St. Thomas USVI
Day 1: Arrival & Drake's Seat
Arrive at Cyril E. King International Airport
Your first day in St. Thomas will begin with your arrival into Cyril E. King International Airport. The best flights arrive sometime in the afternoon, between noon and 4pm.
You can then grab your rental car right at the airport. While taxis are available on St. Thomas, it is far easier to properly explore this island with your own wheels.
Depending on where you stay, a 4×4 Jeep may be required to reach your lodging. The vacation rentals with the best views sometimes involve steep climbs up unpaved driveways. Double check the property's listing or ask the owner to be sure.
If you don't want to rent a car, grab a taxi from the stand right outside the airport. There is no Uber or Lyft in the US Virgin Islands.
View Magens Bay from Drake's Seat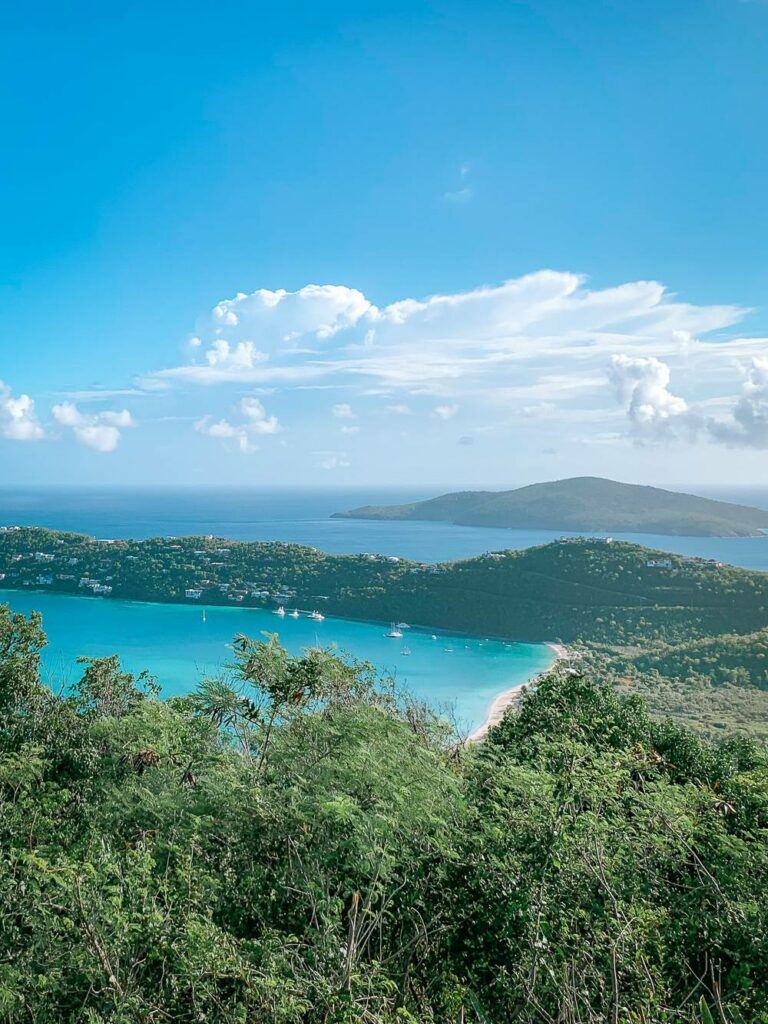 Once you've left the airport, head to your lodging to drop off your luggage and get your bearings. St. Thomas is a very developed island, and there are a myriad of both hotel and vacation rental options to choose from.
Depending on when you arrive into St. Thomas, you might not have time to do much besides grab groceries and dinner on your first night. However, one thing you can easily squeeze into your first evening is a drive up to Drake's Seat.
This necessitates driving up some hilly roads to reach this high perch, but the sweeping views over Magens Bay are totally worth it. This is the perfect intro to one of St. Thomas's best beaches before heading there on your first morning.
Day 2: Magens Bay & Charlotte Amalie Overlook
Magens Bay
Day two of your St. Thomas USVI vacation will begin at pristine Magens Bay. This is arguably St. Thomas's most stunning beach, although large cruise ship crowds sometimes take away from the scenery. St. Thomas can have as many as six cruise ships at port simultaneously, and it's possible to see thousands of people enjoying Magens Bay at one time.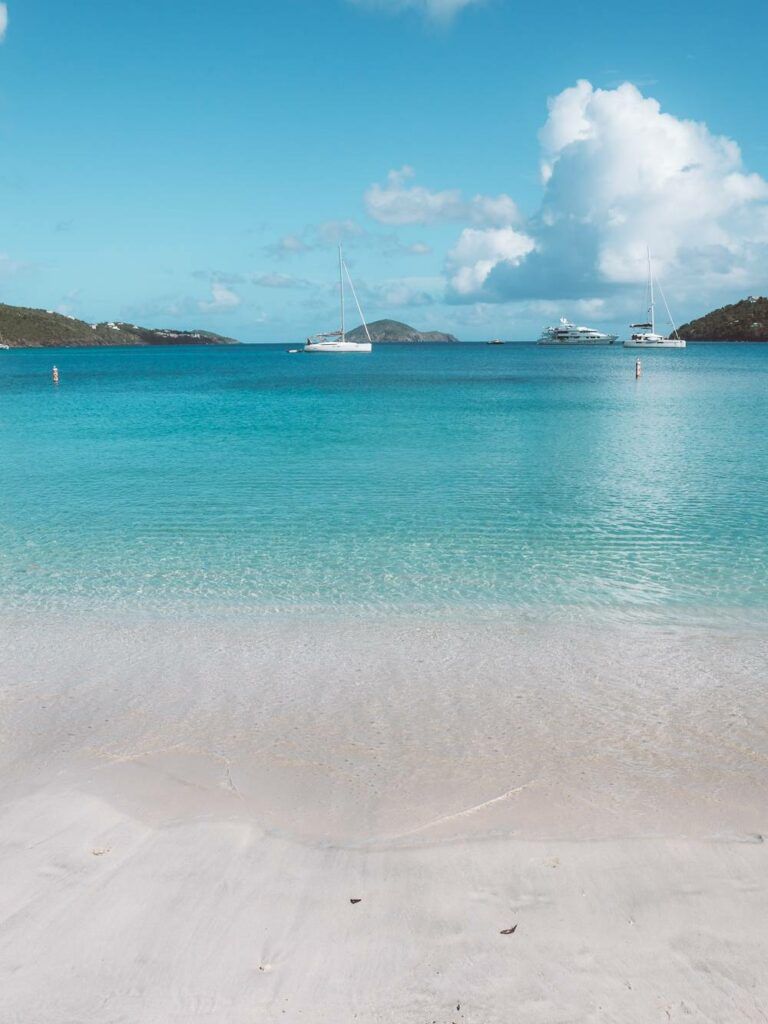 To beat the crowds, it is best to visit St. Thomas outside of peak season, which runs December through May. You could also arrive at Magens Bay first thing in the morning. This will give you the chance to pick the perfect beach spot and experience some solitude before the worst crowds arrive.
That said, there's a reason why crowds flock to gorgeous Magens Bay. The water is calm as could be, and is perfect for utilizing the kayaks and stand-up paddle boards that are available for rent on site. Magens Bay is also long and perfect for leisurely strolls, and has the added bonus of a bar and grill for food and drink purchases.
There is a $5 fee to enter Magens Bay, as well as an additional $2 fee to park a vehicle.
Charlotte Amalie Overlook
When you've had enough sun or if the crowds become too much, hit the road again for a change of scenery. One of the most popular photo spots on St. Thomas is the Charlotte Amalie Overlook, and it is only an eight-minute drive from Magens Bay.
From this point, you can see the whole of Charlotte Amalie, as well as cruise ships docked at the Havensight and Crown Bay ports. A tad further out to sea, you can also view the green hills of Water Island and Hassel Island.
Day 3: Cas Cay & Duffy's Love Shack
Cas Cay
Virgin Islands Eco Tours is one of the most reputable tour companies on St. Thomas and neighboring St. John. One popular tour option is the kayak, hike, and snorkel tour out to Cas Cay.
There are both full and half day tours available. The full day tour includes lunch, and the half day tour is an abridged version of the full day. Both experiences include kayaking through mangroves, hiking a deserted island to a blowhole, and snorkeling in crystal clear waters.
Duffy's Love Shack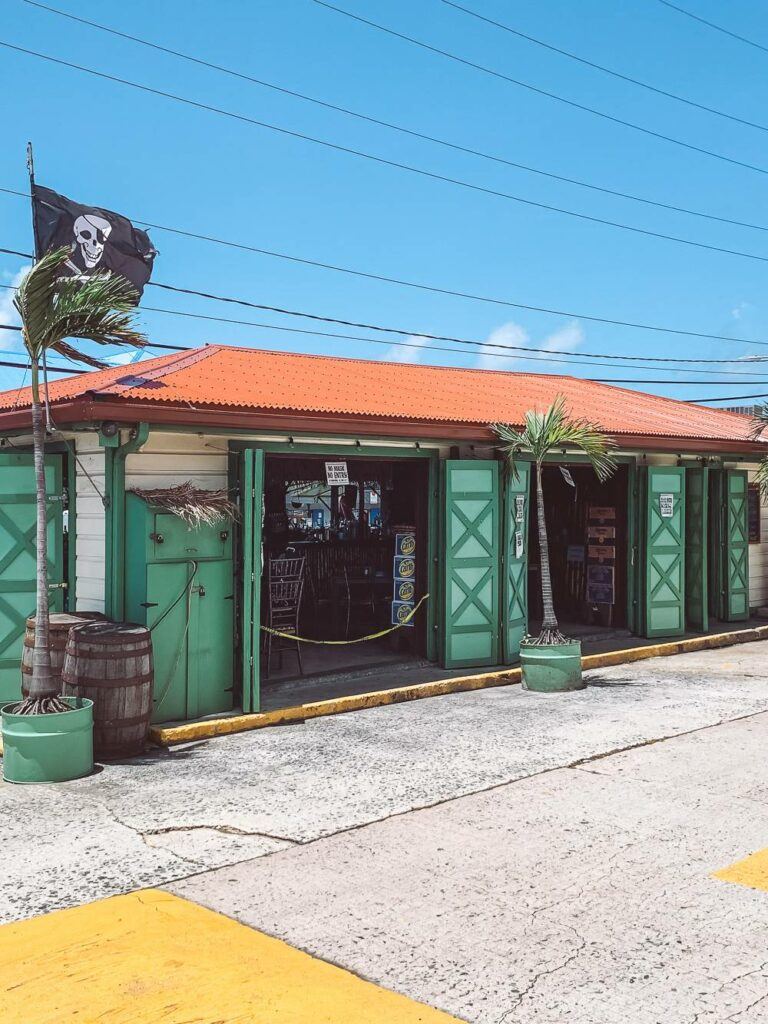 As Cas Cay tours run all morning, your next stop could be either lunch or dinner. A five-minute drive to Duffy's Love Shack in Red Hook will satisfy either of those needs.
This laid back "bar that serves great food" has a unique location in the middle of a parking lot, and is a St. Thomas staple. Some of the best menu items are fish or jerk chicken tacos with a side of fried plantains, as well as the blue cheese and bacon burger.
If you're craving a cocktail, Duffy's serves drinks like frozen bushwackers in fun souvenir glasses shaped like mermaids, pirates, sharks, etc.
Day 4: Sapphire Bay & Sunset Grille
Sapphire Bay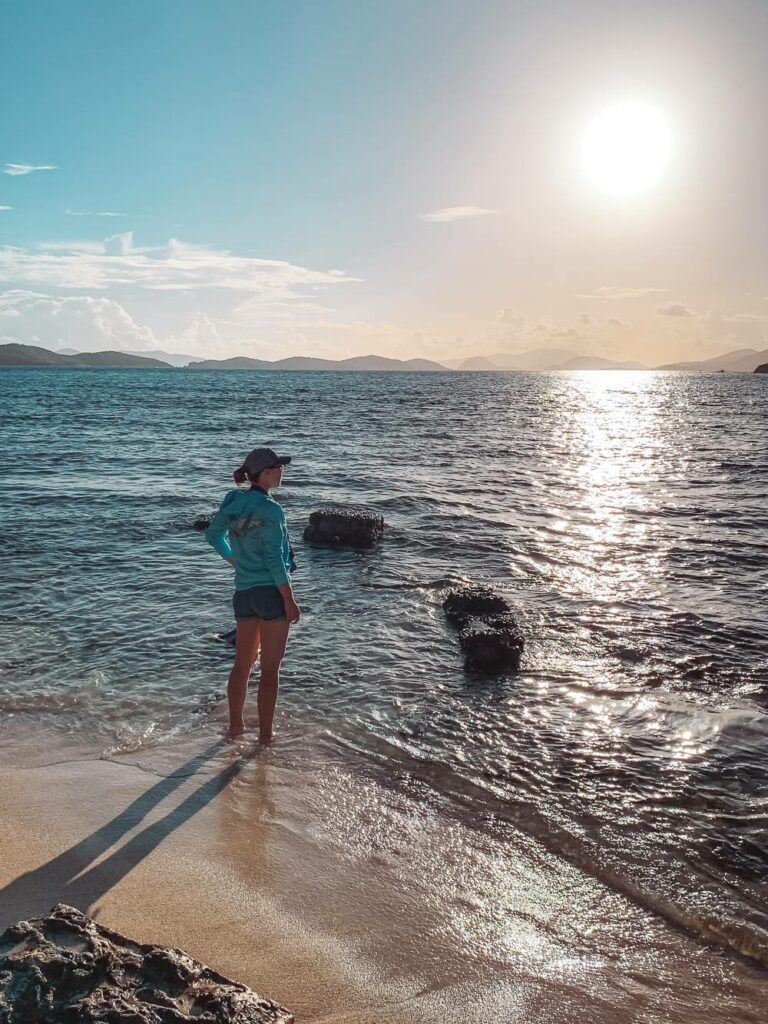 Although Sapphire Bay is located on a resort property, it is one of the most beautiful beaches on St. Thomas. The water ranges from shades of sapphire to bright turquoise, and there are gorgeous views of St. John to the east. Sapphire Bay is truly magnificent during sunrise, when you can watch the orange glow of the sun appear from behind St. John.
It may be difficult to rise early enough to watch the sunrise at Sapphire Bay, but it's still a great beach to visit later in the day. You can lounge in a beach chair, go snorkeling, or rent a kayak or SUP to get out on the water. There is also an open air beach bar right on the sand with casual menu items like tacos and surprisingly good fries.
Sunset Grille at Secret Harbour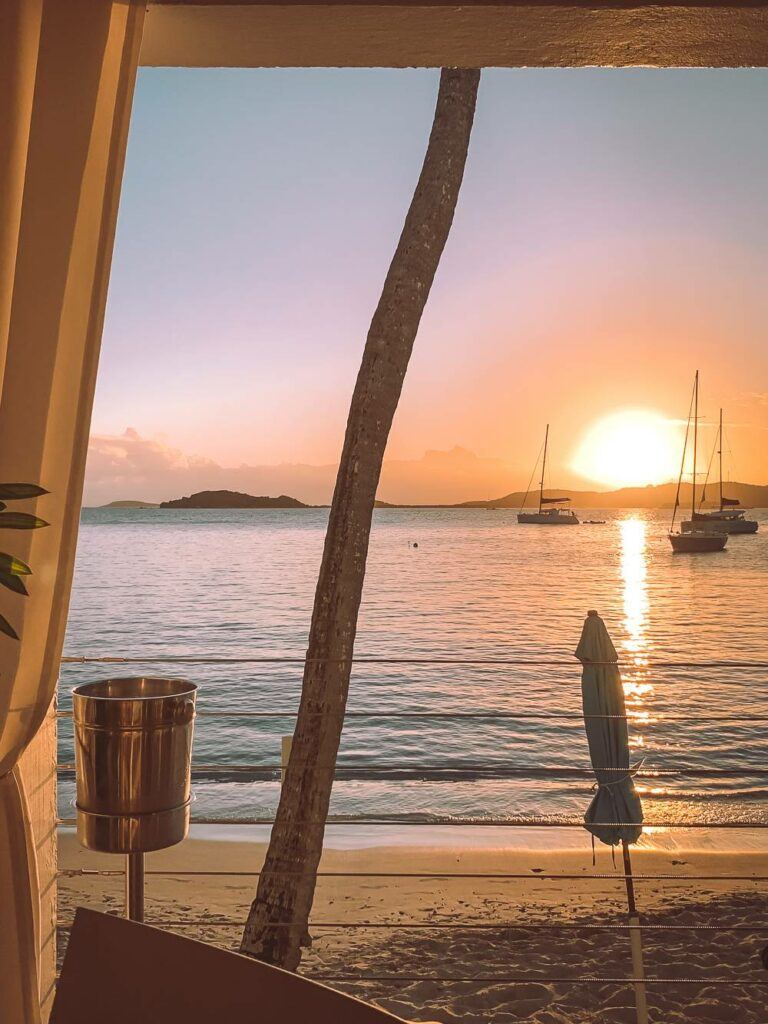 One of the best things to do in St. Thomas is enjoy a lovely meal on the water during golden hour. For a dinner to remember, book a reservation at Sunset Grille for a little before sunset. Located in Secret Harbour, this upscale restaurant is steps away from a pretty white sand beach that itself is worthy of a visit.
The menu is top notch, with bright and delicious appetizers like jalapeno tempura octopus and entrée items like crispy whole snapper and miso Chilean sea bass. Your experience hits a whole new level when you consume this deliciousness as the sun sets before you.
Day 5: Ferry from St Thomas to St. John USVI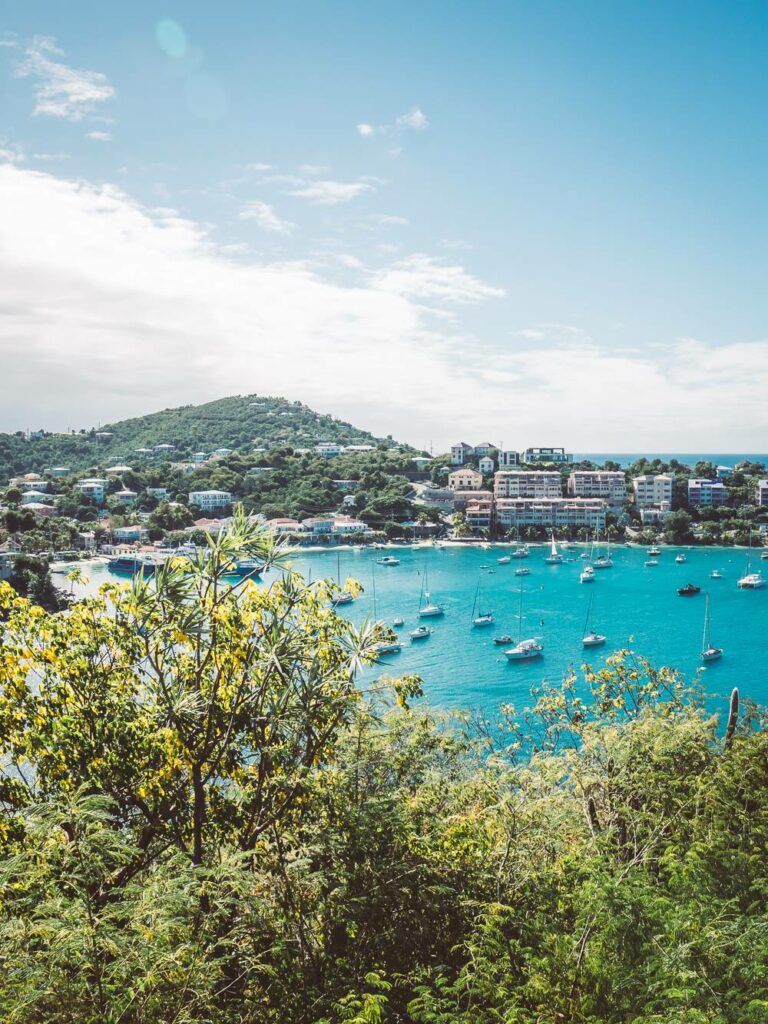 With St. Thomas and St. John being just a twenty-minute ferry ride apart, it would be remiss not to visit St. John at least once during your stay. This sister island is St. Thomas's smaller and less developed counterpart. A visit to each really completes a USVI vacation.
From St. Thomas, most car rental companies will let you take your vehicle to St. John, but you could also opt for the traditional passenger ferry. Once in Cruz Bay on St. John, it will be very easy to grab a taxi.
From there, you can choose among various experiences in Virgin Islands National Park, like visiting the magnificent North Shore beaches or hiking the Reef Bay Trail. When you're done you can grab food in Cruz Bay before catching the ferry back to St. Thomas.
Day 6: Smith Bay & Dinner in Red Hook
Smith Bay
Smith Bay is another great beach to visit during a trip to St. Thomas USVI (aka Lindquist Beach). This beach doesn't feel as remote as Magens Bay, with a large resort visible from the beach. However, it doesn't get near the crowds that Magens draws.
All along the crescent shape of Lindquist Beach are small trees and shrubs forming little cubbies, which make your beach spot feel more private. All that's left for a perfect beach day is to sink your toes in the slightly pink tinted sand and wade in the gentle waters. The right side of the beach is more rocky when entering the water, but it's also quieter than the left side.
There is a $5 fee to enter Smith Bay, as well as an extra $2 to park a vehicle.
Dinner in Red Hook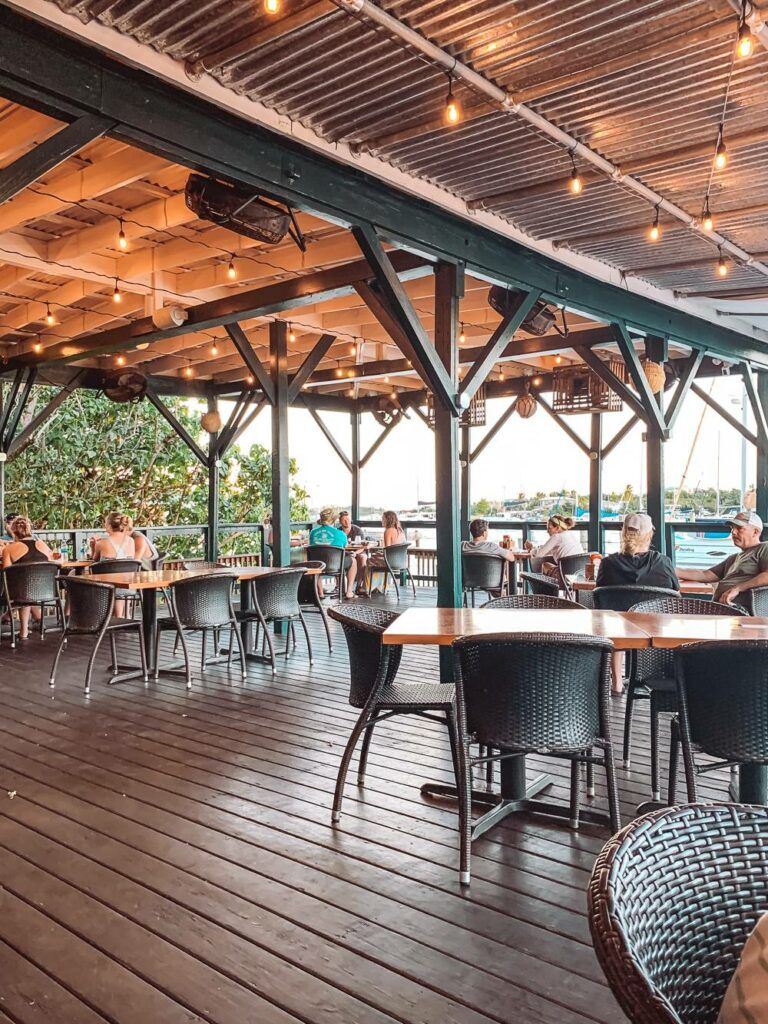 Besides being where the ferry dock is located, Red Hook has a lively scene in the evening. There are many restaurants in the area to check out, some of which are even on the water.
For an elegant option that still feels beachy, check out The Easterly. The menu is filled with sophisticated sea food offerings for both small plates and entrée size portions. The cocktail menu is excellent as well, with enthusiastic bartenders who are happy to leave the menu and craft whatever you want.
Alternatively, for a dressed down waterfront option, Outriggers is a solid choice. This is the place to go when you're craving fried appetizers like calamari or mahi bites. For entrées, keep things casual with a mahi sandwich or taco, or splurge on one of the many fresh fish plates.
Day 7: Last Day on St. Thomas USVI
Coki Beach
Spend your last day on St. Thomas USVI at one of the island's prettiest beaches: Coki Beach. The water here is simply incredible, with some of the brightest turquoise waters on the island, which pop against the fluffy white sand.
Coki Beach is not very big and gets crowded throughout the day. Therefore, it's best to arrive around 9am to enjoy the best of this beach's scenery.
This beach also has the perk of offering snorkel and scuba gear rentals right onsite. This is convenient for diving enthusiasts seeking to explore these magnificent waters. For those less interested in actually going in the water, there is also a beach bar just off the sand.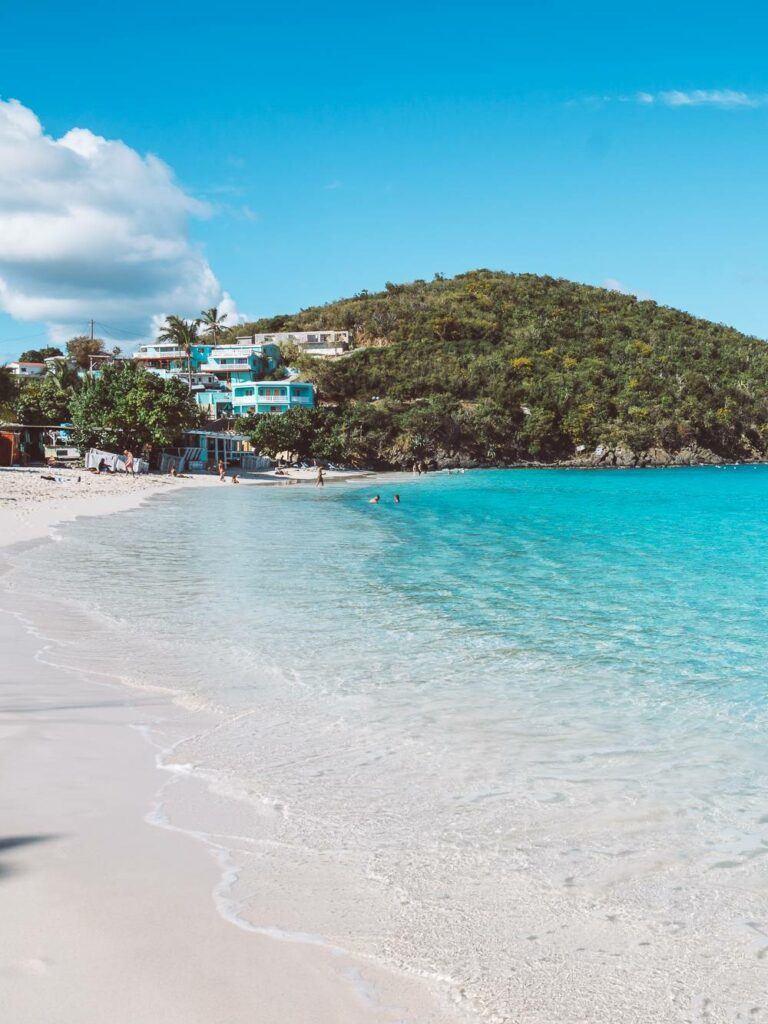 That said, be mentally prepared for aggressive venders hawking chair rentals all along the beach. They tend to set guests' chairs and umbrellas right on the water, which could possibly block the view from where you set up your own towel or chair. If this will dampen your experience, you may just want to rent chairs yourself so no one can block your view.
It's also worth mentioning that Coki is a notorious weed smoking beach, and you will probably be able to smell it. If this will bother you, then definitely try to arrive early in the morning before the beach gets busy, or perhaps return to a previous beach you enjoyed.
There are both free and paid parking spots available near Coki Beach.
Charlotte Amalie
After a morning spent at Coki Beach, head to historic Charlotte Amalie to explore and grab lunch. This port city was founded in 1681 when the colony was under Danish rule. Today, you can still wander cobblestone paths and visit remaining historic structures, like Fort Christian and Blackbeard's Castle.
While exploring, you can also do some duty free shopping and grab a souvenir to take home with you. If you get hungry, there are plenty of restaurants in this popular tourist area to check out.
Pin me for later:
There you have it – the perfect way to spend one amazing week in St. Thomas USVI. This bustling island is an amazing choice for vacationers seeking convenience, but wanting a more adventurous experience beyond an all-inclusive resort. St. Thomas will allow you to enjoy the best of both worlds: breathtaking scenery without sacrificing abundant restaurants, nightlife, and amenities.
About the author: Theresa is the creator of Fueled By Wanderlust.  Although she did not start traveling until her mid-twenties due to some pesky student loan debt, with careful budgeting, she was able to pay that off and start planning trips.  Since then, she has traveled more and more each year to various places in the U.S., Europe, and the Caribbean.  You can follow along with Theresa's adventures on Instagram.
Click to read more posts about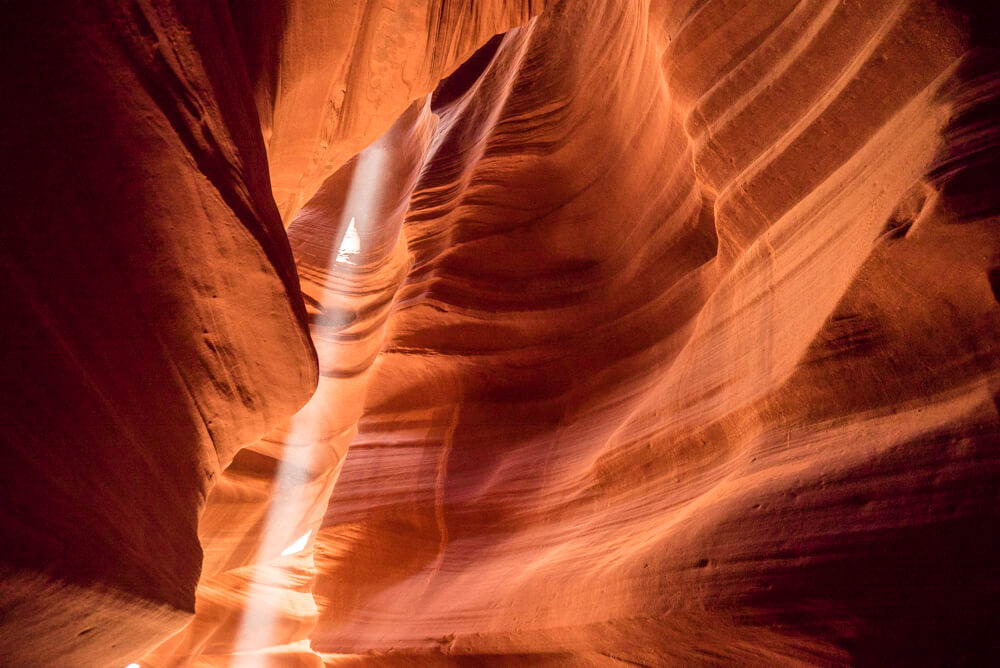 The USA