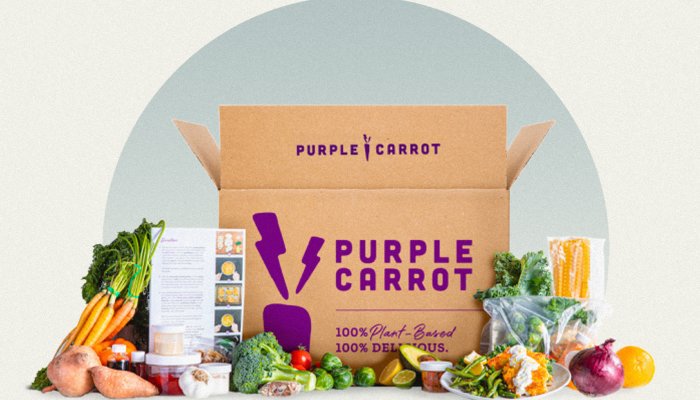 Okay, onto the good stuff. Here's a full review of each Purple Carrot meal I tried. Note: The serving sizes were appropriate for me, but may not be satiating enough for someone with higher energy needs.
Tofu Peanut Stir-Fry with Charred Broccoli + Midnight Grains (Less Prep) (540 calories, 16 g fat, 63 g carbohydrate, 36 g protein per serving) 
I don't often cook with tofu, and I always appreciate recipes that bring me outside my habitual cooking routine. This "Less Prep" Tofu Peanut Stir-Fry did just that. 
The crispy tofu was surprisingly easy to whip up, as was the charred broccoli. I was most surprised by how much I enjoyed the Midnight Grains blend—especially because I was initially taken aback by the blend's dark hue. The grains added a great contrasting flavor to the tofu and brought a delicious texture to the dish. Immediately after tasting it, I found myself searching for a copycat blend online. 
The peanut sauce arrived already prepared and ready to pour over the finished plates, cutting the prep time down significantly and earning this dish its "Less-Prep" sticker. It also packed a hefty punch of flavorful plant-based protein. My only note on this meal is that the tofu and the broccoli could have used more seasoning to supplement and further enhance the flavor of the peanut sauce—but this is something that can easily be remedied at home by digging into your own spice rack.
Romesco Chickpea Sandwiches (720 calories, 26 g fat, 93 g carbohydrates, 27 g protein per serving) 
The Romesco Chickpea Sandwiches was another simple, low-prep meal. The veggies only needed a quick roast in the oven, during which I was able to mash the chickpeas with the provided vegan mayo and ready-made Romesco sauce. 
I'm a big fan of sandwiches when they're prepared well, and this sandwich truly held its own as a main dish. Pro tip: Instead of using the arugula for a side salad as intended, I added it to the sandwich—and its peppery bitterness balanced the sweetness from the tomatoes and onions well. 
While I'm not one to shy away from carbohydrates, the carb content of this meal was quite high compared to what I typically eat.