Walking amongst the pastel houses and horse-drawn carriages of South Carolina's charming port city, it's easy to see the draw of Charleston.
Architecture aficionados will fall in love wandering amongst the ​​Colonial, Georgian Gothic Revival, Italianate, and Art Deco facades. Surfers, fishers, and sun-worshippers will find more than their fair share of shoreline.
My fellow foodies will find themselves eating their way across town, just like I did.
After three nights of exploring this quaint city, I found countless spots I adored. While three days in Charleston might not give you quite enough time to see it all, you can check a few essentials off your list.
Ready to explore this gem in South Carolina? Here is your ultimate 3-Day Charleston Guide.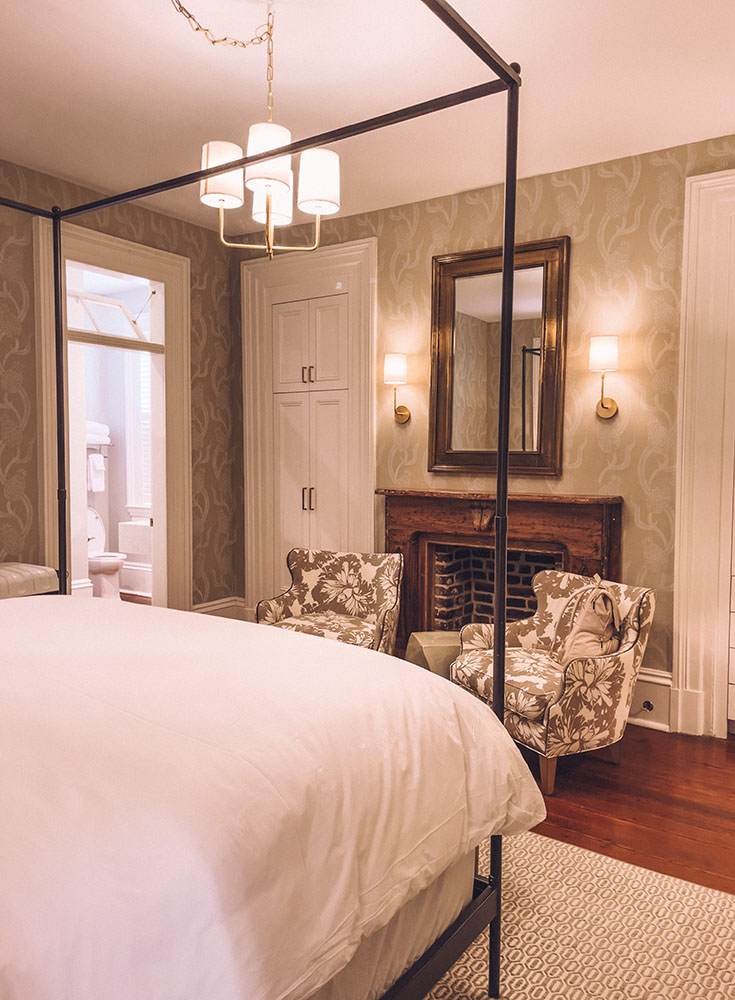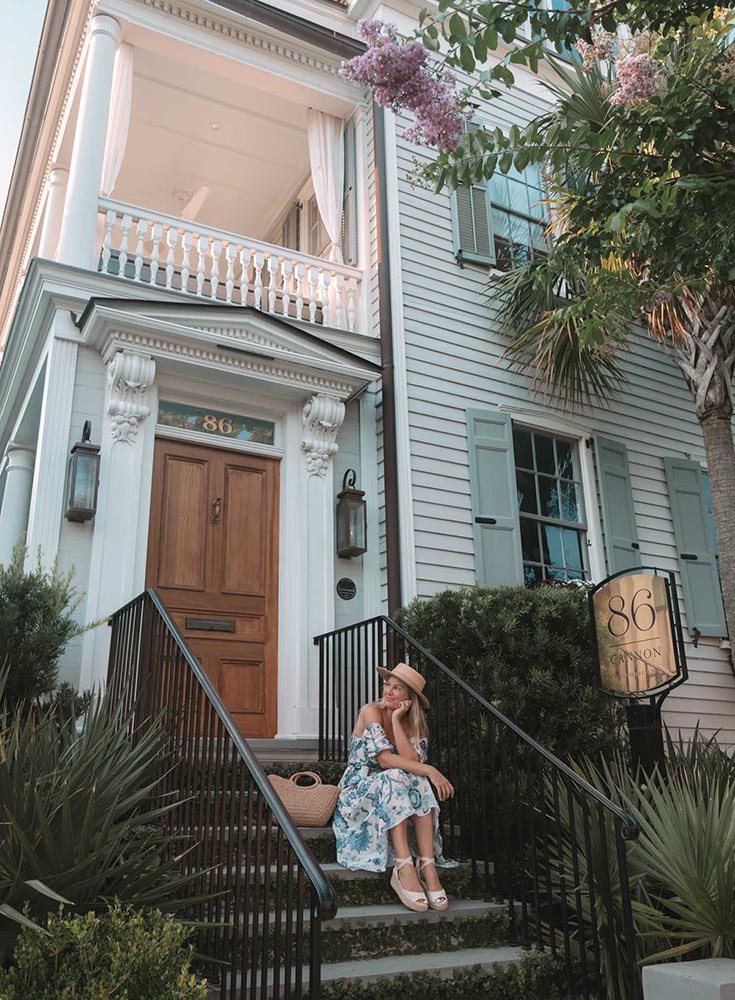 Where to Stay
While you can find an array of budget-friendly accommodations, this is a destination where it is well worth splurging.
If you can treat yourself to one of the fancier hotels, this is your opportunity to embrace Southern hospitality and live like a queen.
I opted to stay at 86 Cannon and it was an absolute dream.
I actually found myself not wanting to leave in the morning! That is more than a little rare for me, but the welcoming inn was a key part of what made Charleston so charming.
I made it a point to be back at the hotel from 5 to 6 each evening to have cheese and wine with the other guests. It was an absolute delight, especially on a solo trip, and just one more than that made my stay special.
While I'd highly recommend 86 Cannon (read my full experience here), this incredible inn does fill up. Book a room if you can, or check out one of these other popular picks: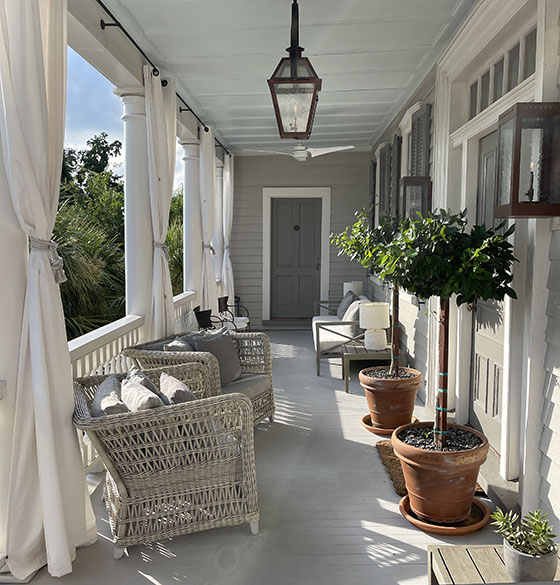 Looking for a romantic and intimate space to rest your head in South Carolina? Here's your guide to staying at 86 Cannon in Charleston.
Read More
Hotel Emeline
This chic boutique hotel beside the Charleston City Market is an elegant hideaway in one of the city's hottest neighborhoods.
Planters Inn
An iconic inn set in a stately 19th-century property, this is the state's one and only Relais & Châteaux Hotel.
Restoration Hotel
With residences with up to three bedrooms as well as classic suites, this is an ideal home away from home in the heart of the city.
Mills House
Bathe in southern elegance in this old colonial-style hotel with a sweeping view of the Historic District.
Wentworth Mansion
This is an essential experience when you're in Charleston. This stately 19th-century mansion houses the most elegant five-star hotel in the city.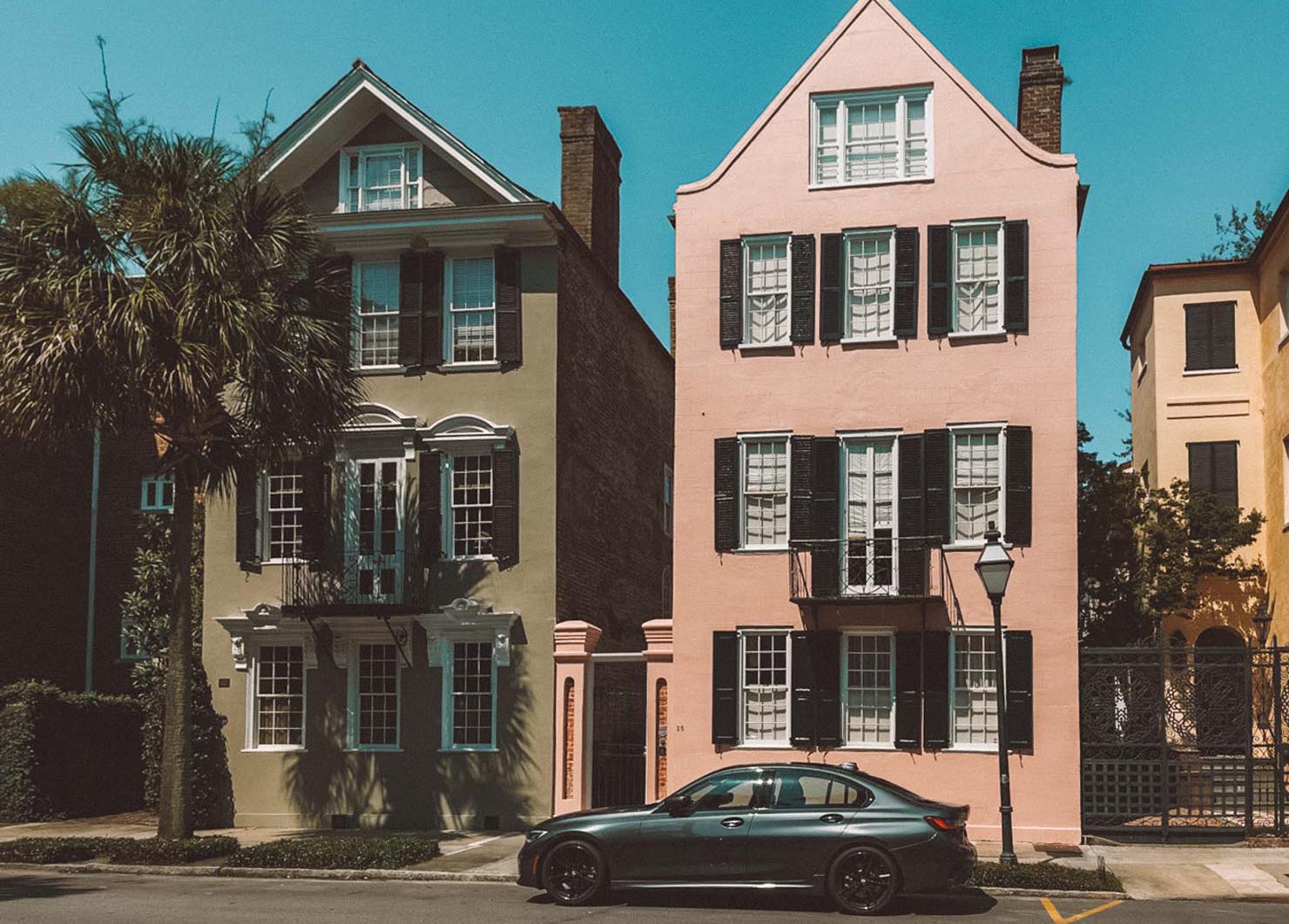 Getting Around
Charleston is perfect for biking. I found myself getting around anywhere and everywhere on two wheels. Check to see if your accommodation provides bikes or find your own set of wheels.
In the heart of the city, certain areas are walkable or you can opt for the usual Uber or Lyft.

Know Before You Go
From top to bottom, Charleston is about two miles wide so it's easy to bike around and you can get the lay of the land quickly.
The city has a grid-style layout over a watery peninsula on the Atlantic Ocean. For more than 300 years old, King Street has been the main vein. It's a high-end shopping hotspot and geared toward tourists.
There are distinct neighborhoods around the city, each with its own charm.
You find stunning architecture throughout the city so bring your camera. South of Broad, and in particular Rainbow Row, is famous for its beautifully restored pastel townhouses.
Helpful Tip:
Staying on Cannon Street, it was a bit too far to walk to South of Broad so I'd recommend biking if you're staying around there.
If you're into architecture, check out one of the many old home tours. Aiken-Rhett House Museum is one of the most famous historic homes. It was recommended to me several times but I didn't have time for it in the end.
While I found countless beautiful areas as I rode my bike around the city, I didn't find nearly as many activities and sightseeing options as Savannah has.
To be honest, it was a bit disappointing in terms of things to do, though I found some incredible foodie spots. So, if you're a major foodie — this is the place for you!

 Best  Things To Do
Rainbow Row: This famous collection of 13 pastel homes creates the longest line of Georgian row houses in the country. From 79 to 107 East Bay Street, this waterfront neighborhood is an essential photo op. Visit in the early morning for perfect lighting and fewer crowds.
South of Broad House: Plan plenty of time for admiring the houses, especially the iconic Rainbow Row then make a detour for the Pineapple Fountain at Waterfront Park.
Watch the Sunrise: Folly Beach offers a picture-perfect view of the sun rising over the ocean.
Early Morning or Late Evening Kayaking: Book a tour to get up close and personal with the dolphins.
Magnolia Cemetery: This historic cemetery is a truly beautiful space.
Amethyst Spa: The spa at the Restoration Hotel is well worth a visit whether you are staying in the historic downtown hotel or not.
History Tour at the Calhoun Mansion: From original works from Picasso to ancient Egyptian artifacts, this is one seriously impressive home.
Angel's Oak Tree: This old oak tree can only be described as ginormous. Go see for yourself.
Waterfront Park: Awarded by the American Society of Landscape Architects and the National Trust for Historic Preservation, this half-mile park running along the Cooper River is a beautiful green space.
Fort Sumter: Explore this sea fort and see the precise spot where the American Civil War began.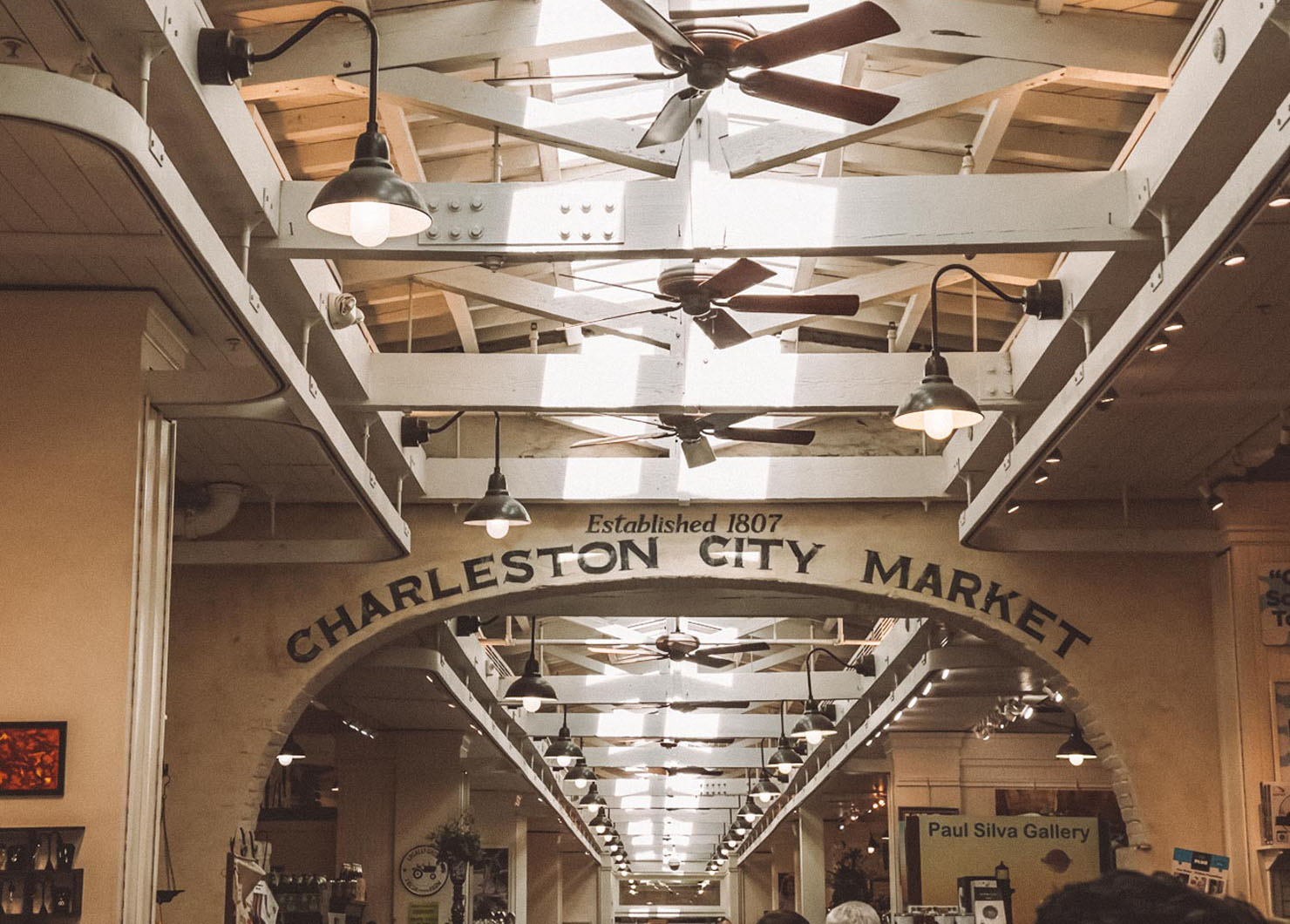 Charleston City Market: While I found this on countless to-do lists and even listed as a historical site, I didn't love this market. You can get souvenirs but I was disappointed to see it was mostly imported trinkets from China rather than locally-made artisanal pieces.
Historic Home Tours: Be sure to check out the Aiken-Rhett House and Nathaniel Russell House. Each tour takes about an hour and will give you a deep dive into this history and architecture. If you know you'll have time for both, grab a discounted duo ticket from the Historic Charleston Foundation.
Walking Tour: Go for a two-hour excursion with Oyster Point Walking Tours.
Cypress Gardens: 25 minutes north of Charleston, you'll find 170 acres of preserved green space. In the heart of it all is an 80-acre blackwater tupelo swamp. Wander along the surrounding foot trail or explore the boat path.
Street Fair: On the second Sunday of each month from 1 to 5 pm, get to King Street. With live music, outdoor dining, and sidewalk shopping, this family-friendly (including the fur babies!) event is a perfect place to have lunch and people-watch.

Self-Guided Walking Tour of Charleston
 Want to go solo? You can easily go for a self-guided walking tour of the city. Here's the path that I recommend.
Charleston Farmers Market at Marion Square Park for breakfast
Waterfront Park
East Bay and Rainbow Row
Battery Park and The Battery
White Point Gardens
LeGare — travel from south to north
Pineapple Gates House, located at 14 LeGare
Nathanial Russell House
Mrs. Whaley's Garden, located at 58 Church St
Goat Sheep Cow cheese shop for a picnic lunch
Washington Square
Preservation Society of Charleston
Unitarian Church Cemetery
Charleston Music Hall
Aiken-Rhett House
King Street
Make sure to wear comfy shoes!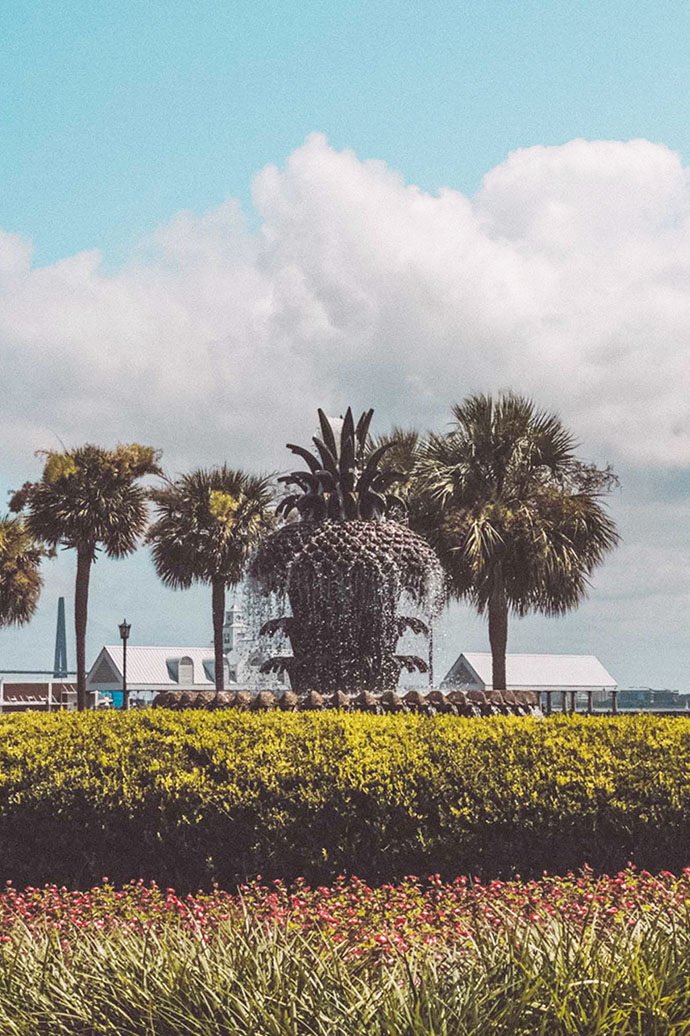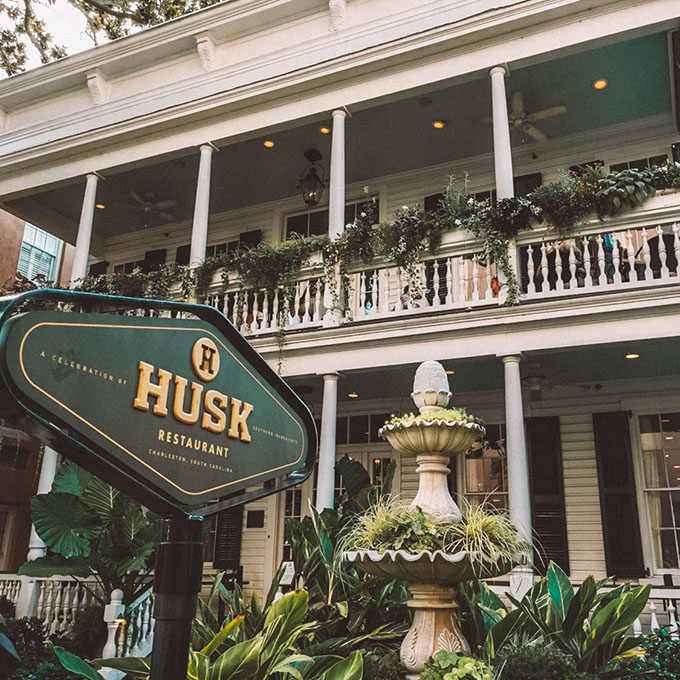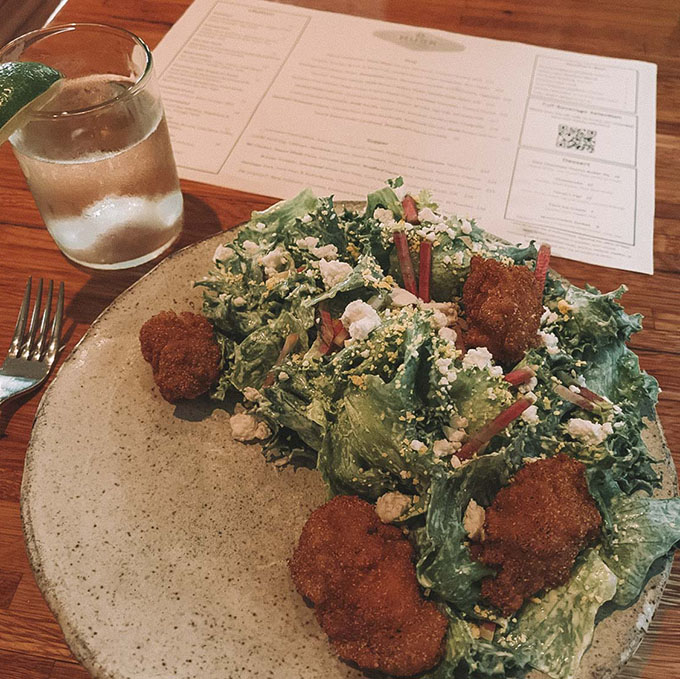 Husk Charleston
The First Night
Right after checking into 86 Cannon, I set off on a mission to find some extraordinary Southern food.
I went to Husk on my first night in Savannah, and naturally, I had to try their Charleston location. While the locally-sourced elevated Southern concept is the same as the Savannah location, the space and menu are quite different.
You'll want to book well in advance to make sure you can get a table at Husk.
Planning Tip: Looking for more inspiration for dinner? Jump over to my complete Charleston foodie guide.
Once you've had dinner, wander around downtown Charleston. As the gas porch lights start glowing, the city is at its best.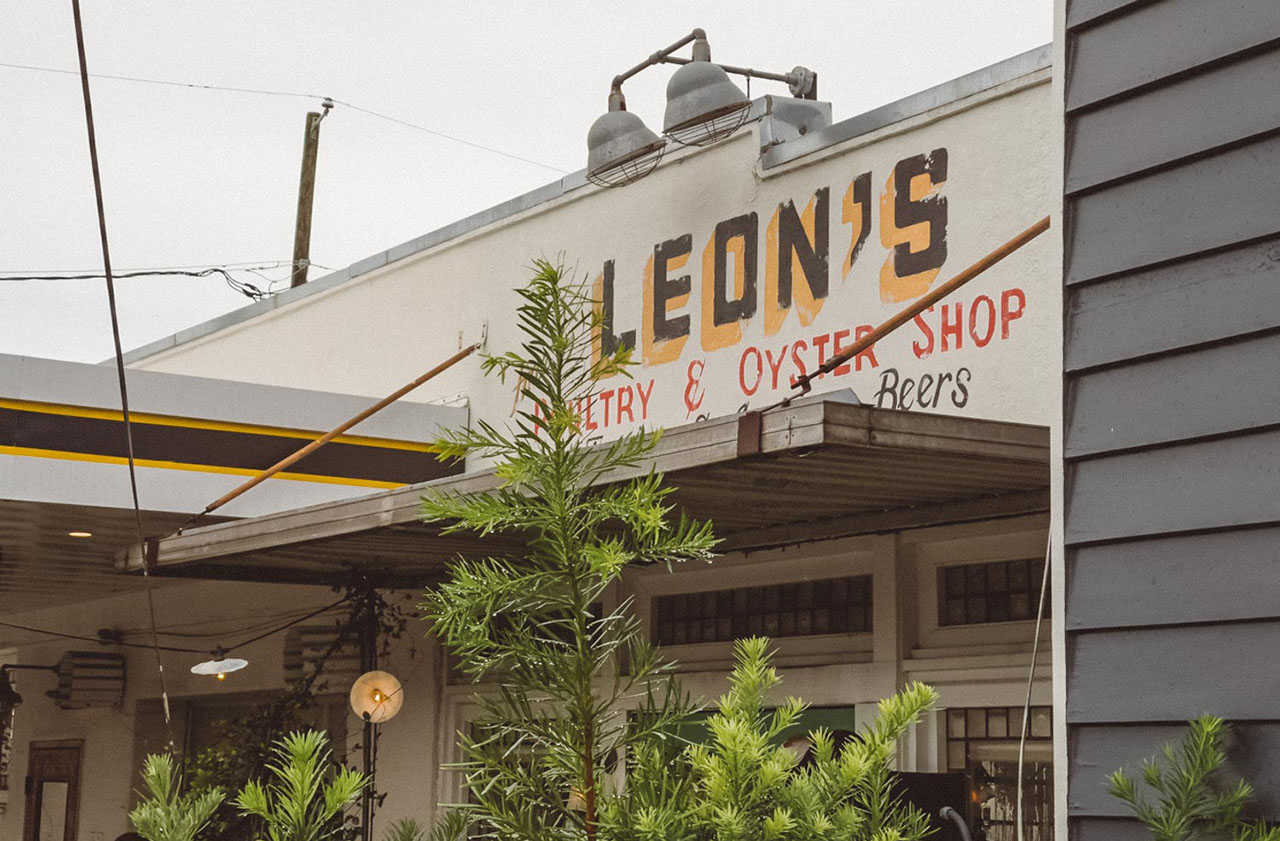 I went out for lunch at 11 am to increase my odds of getting a table.
Day 1
Breakfast + Lunch
On my first morning, I had breakfast at the inn because it was included in the stay. Charleston is a top-notch food city though, so it's worth looking at your options for brunch if you want to get out there first thing.
With so many restaurants requiring booking well in advance, I went out for lunch at 11 am to increase my odds of getting a table.
Fortunately, this allowed me to get a table at the ultra-famous poultry/oyster shop, Leon's.
Helpful Tip:
I had good luck in Savannah and Charleston going to lunch around 11 or at 1:30 or 2 pm. While the peak hours book up well in advance, these odd early and late hours make it easier to get a seat.
Charleston City Market
After lunch, I explored the Charleston City Market. While this place is much-loved by travel guides, I wasn't blown away.
I was expecting some handcrafted and elevated pieces. Instead, I found more cheesy souvenirs than I was hoping for. That said, it was fun to walk around and just browse.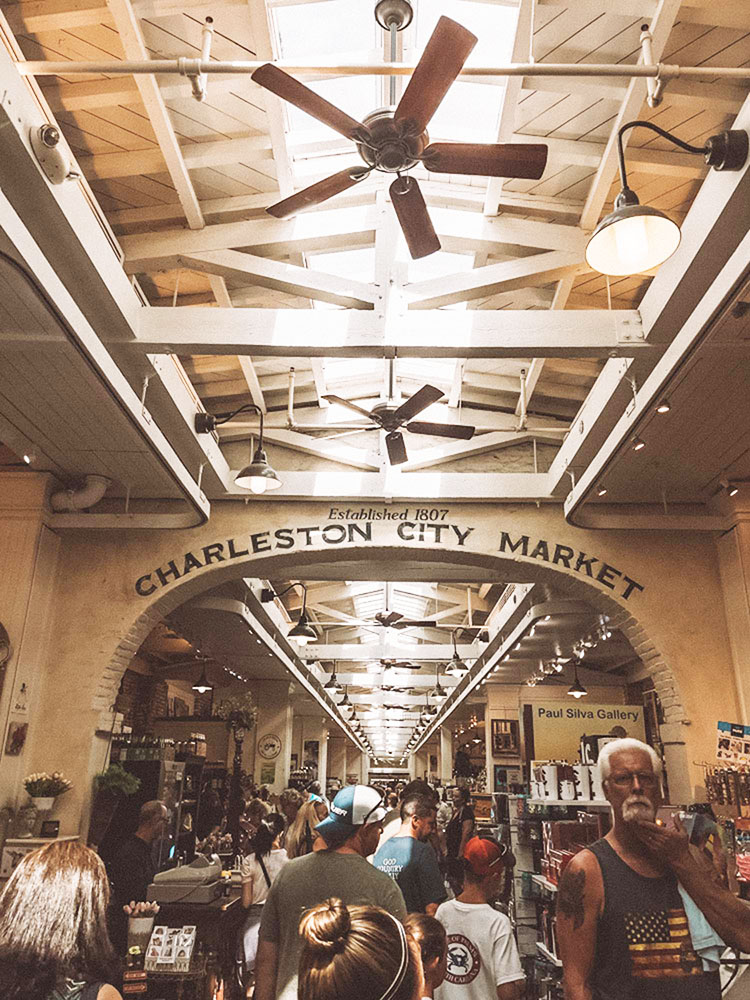 If you do want to get a one-of-kind souvenir, make your way over to Charleston Artist Guild or Port Mercantile in the Restoration Hotel.
Boat Tour + Dinner
If you want to get the lay of the land, hop on a boat tour. From Charleston Harbor, you can see all of the iconic landmarks like Castle Pinckney, Fort Sumter, Waterfront Park, The Battery, and the Arthur Ravenel Jr. Bridge.
For dinner, I went to Chez Nous. This would have been completely off my radar had Elliot, the manager at 86 Cannon, not recommend it.
And I adored this special place! They write their menu daily and post it on Instagram.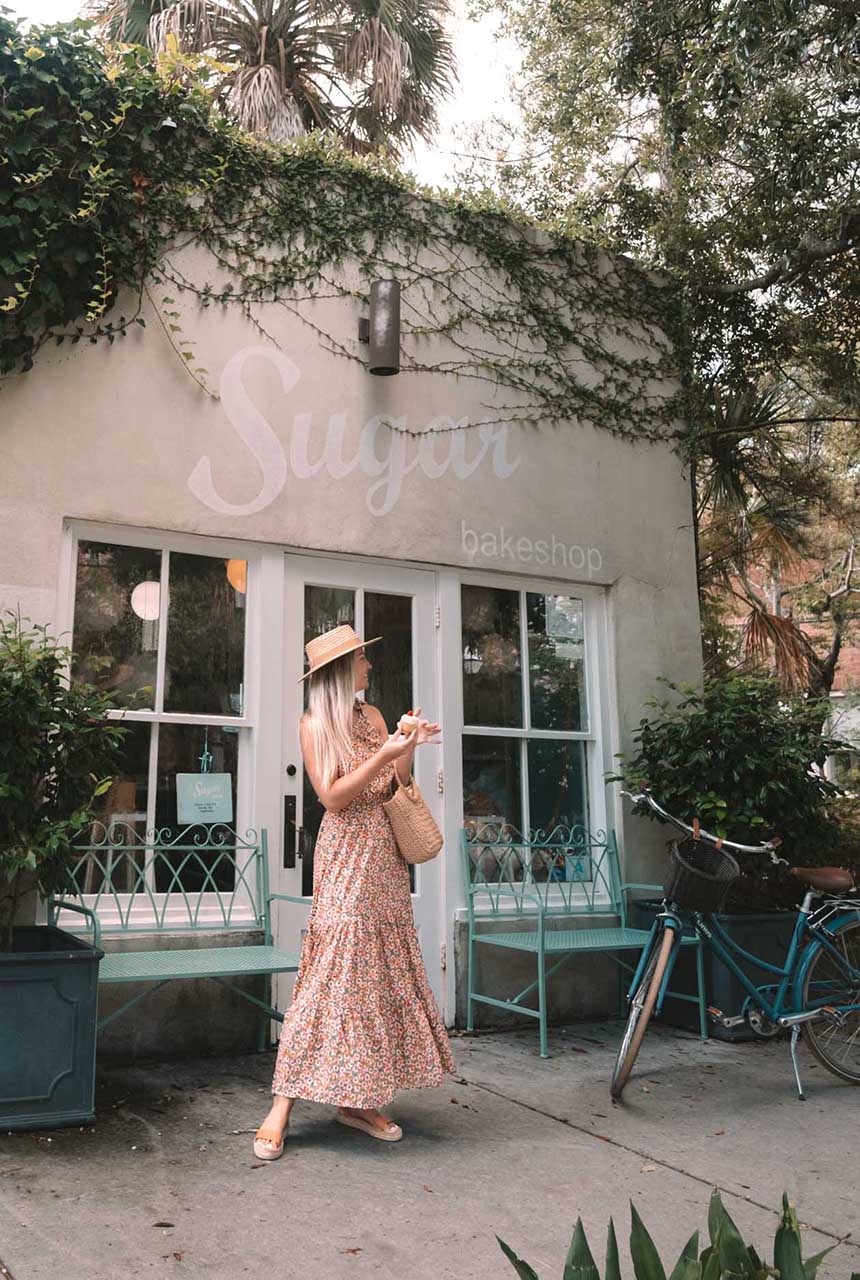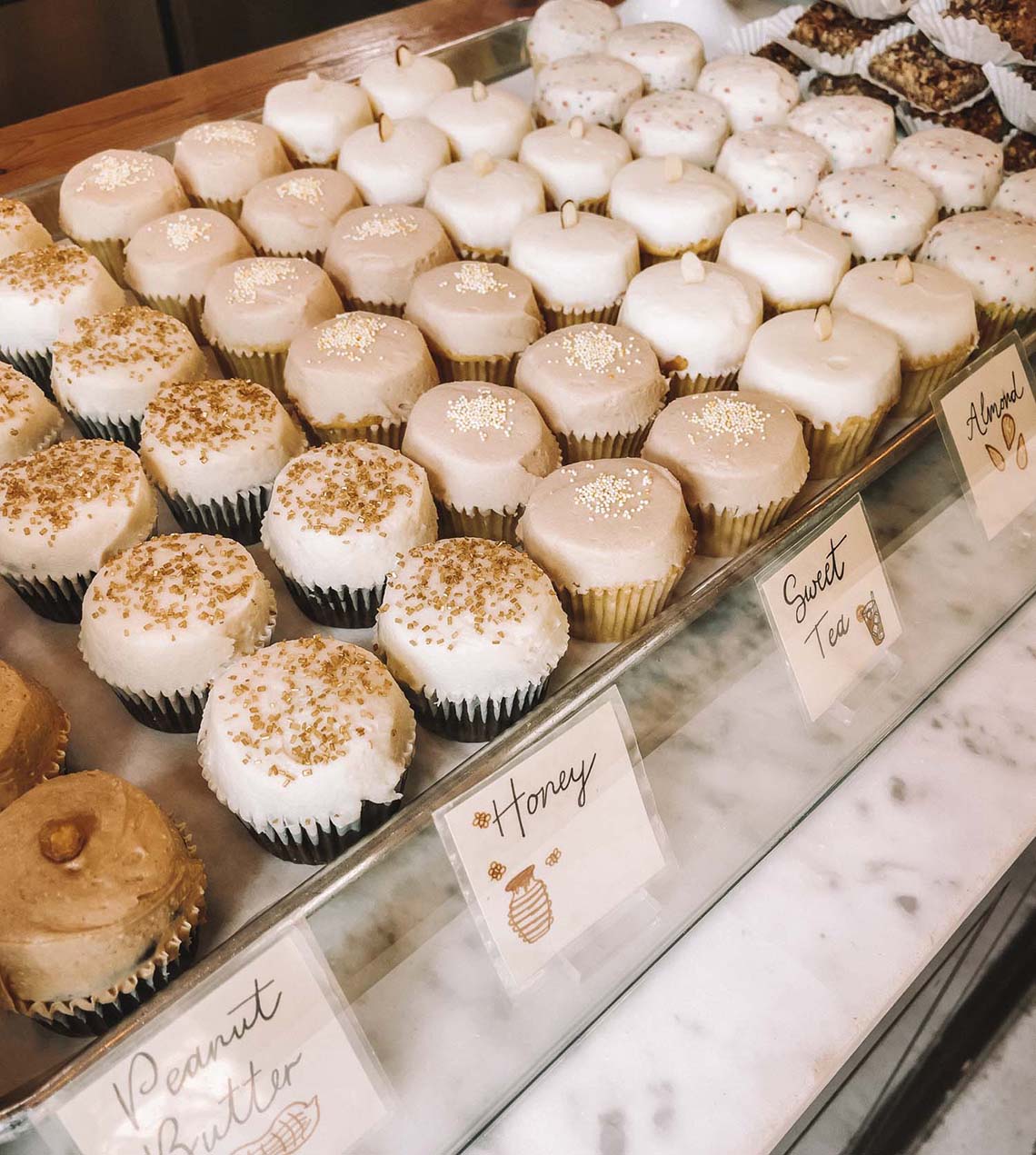 Day 2
Sweets for Breakfast
I started my second day with a sugar fix. Just a few streets down from my hotel, Sugar Bake Shop is a cute little spot with freshly baked cupcakes.
From there, I made my way down to South of Broad. This neighborhood most definitely lived up to the hype. You could spend two days just exploring winding through the alleys and streets admiring the architecture.
Fountains on Fountains
In the afternoon, I made my way down to Waterfront Park and the legendary Pineapple Fountain.
Like many fountains I found around Savannah and Charleston, this water feature was actually usable.
With the exception of Forsyth in Savannah, these fountains are joyful places where kids and the occasional adult cool down on a hot summer day.
I loved seeing this rather than your usual "look but don't touch" water features.
Explore the French Quarter
Once you're in the French Quarter, this is a gorgeous area to just chill outside in the shade. Also known as the Art District, it also so happens to be one of the top areas to explore local architecture.
Snap pics of St. Philips Episcopal Church, Dock Street Theater, and the Old Slave Mart then keep exploring.
Make your way down Exchange Street, Prioleau Street, Waterfront Park, Vendue Range, and Easy Bay Street for an eclectic range of stunning localities.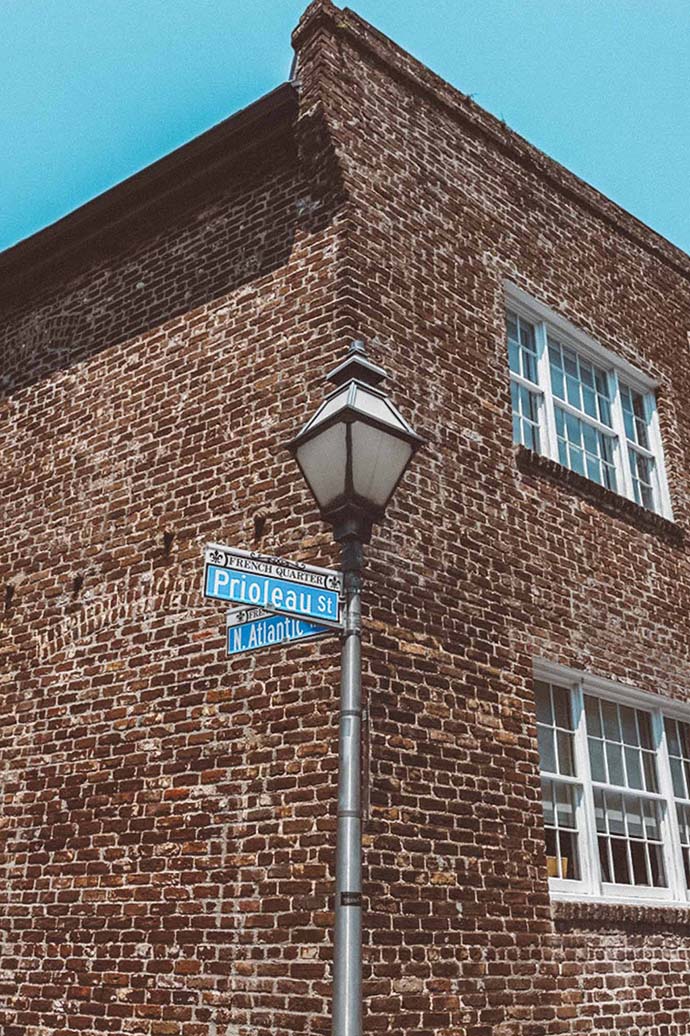 During my explorations, I stumbled across Harkin.
While I can be a sorta hard-to-impress kind of person who loves a premium afternoon coffee, iced coffee, and coffee culture in general, this place ticked all of the boxes.
One of the best spots for coffee I came across, this cool little cafe had a good selection of greens and salads for lunch, along with the great breakfast picks.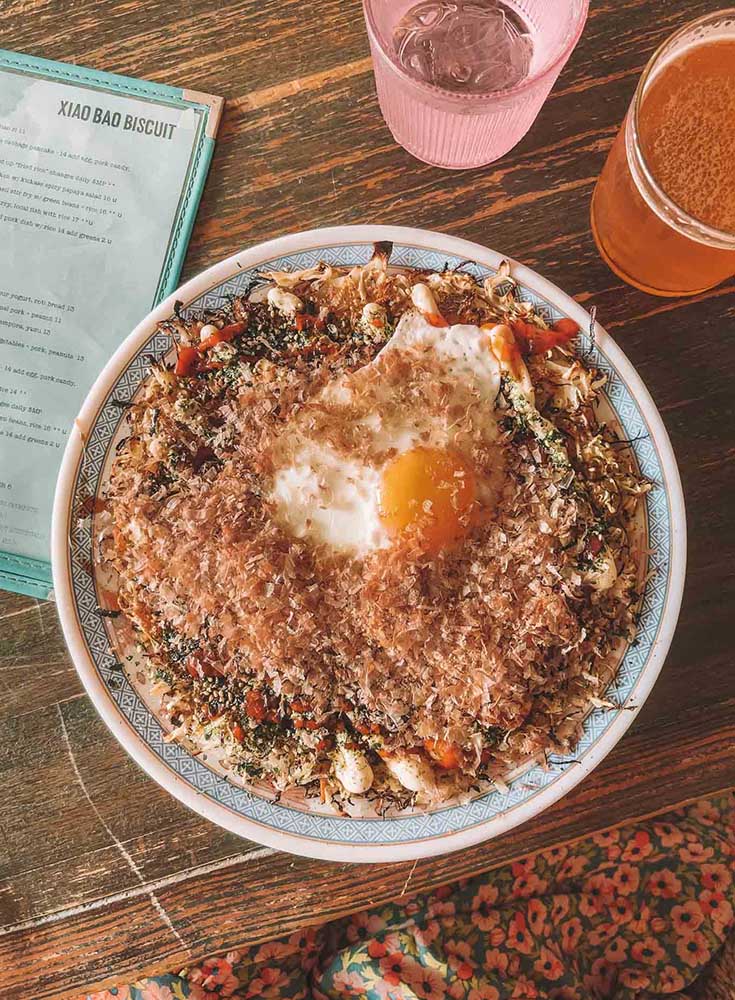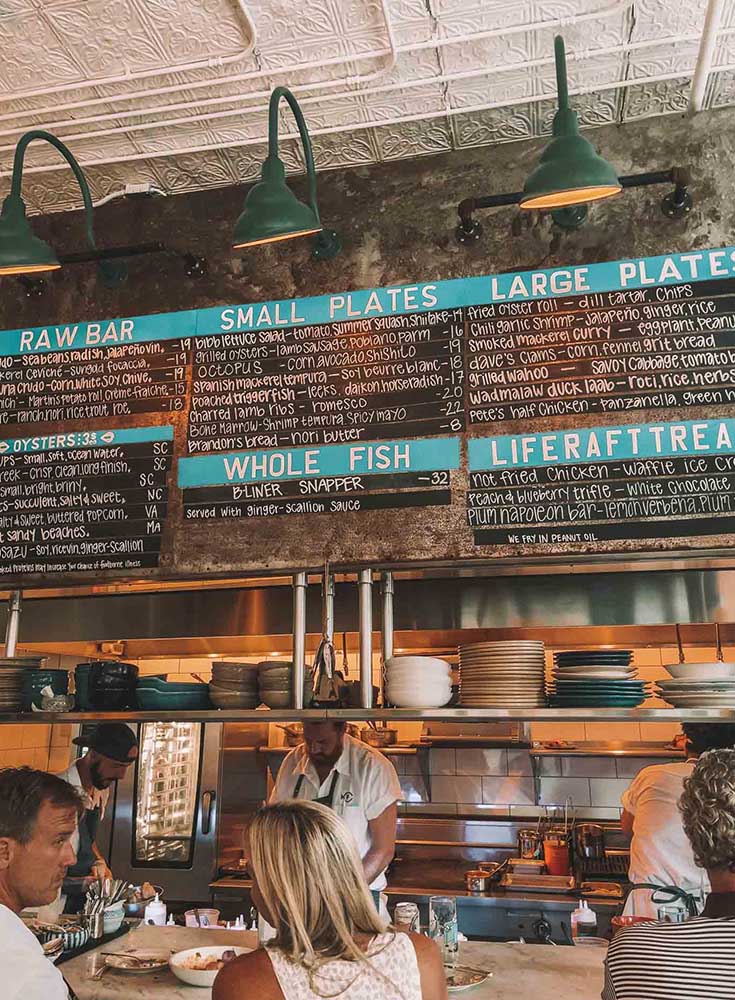 King Street
Once I arrived on King Street, I locked up my bike and went to explore. There were antique shops, cute kids stores, and tons of clothing stores.
After a bit of window shopping, I made my way to 167 Raw. I was eating solo and so was lucky enough to be able to sit at the bar after a quick 15-minute wait.
At this much loved-loved oyster bar, I sampled oysters with caviar and oysters with uni—these were undoubtedly amongst the best things I've ever eaten in my life!
Book in advance and be sure to check out the tequila bar or their Paloma daiquiri.
That was my pre-lunch…
Then I made my way to Xiao Bao for a late lunch (I told you, this is a serious foodie city; I had to sample everything!). They modified the okonomiyaki cabbage pancake to be vegetarian and served it up with an amazing green curry with fish.
For an Asian-inspired meal, I'd highly recommend checking this place out.
After a full afternoon out, I went back to the hotel for wine (and a shower to de-stickify myself during the summer heat!).
In the evening, I went over the Chubby Fish. Owned by a husband-and-wife team along with their friend and famous chef from Le Farfalle, this hotspot is the team's first restaurant and roaring success.
With an open kitchen concept, I was able to sit at the bar and chat with the whole kitchen crew, which was a complete delight.
I watched the owner cooking away and shucking oysters. They had tuna crudo, octopus, and other ultra-fresh catches along with a unique array of dishes.
The exceptional food, combined with the splendid team made this my number one food spot in town. Check out Chubby Fish while you're in Charleston!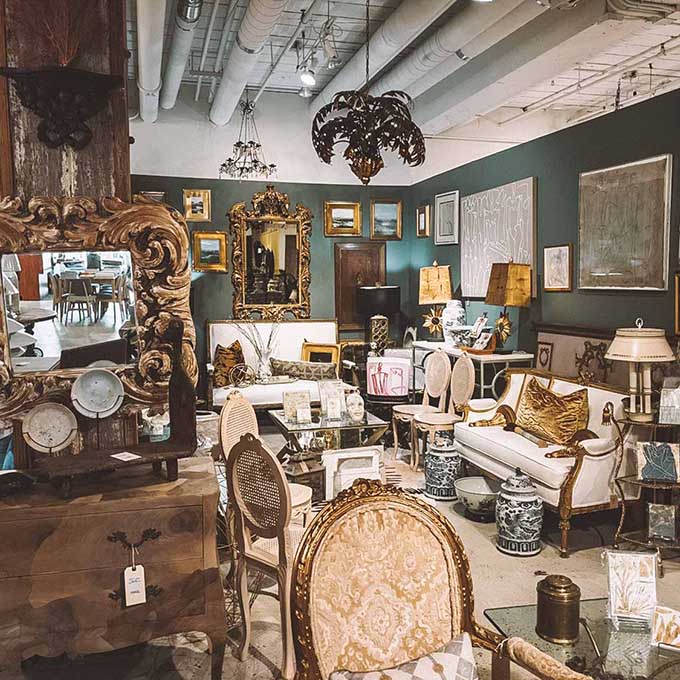 Fritz Porter Design Collective
 Day 3
Breakfast + Boutiques
On my final day in Charleston, I took it slow. After making my way out of the hotel, I drove out to The Cigar Factory. From pop-up art shows to hair salons to coffee houses, this historical building is a one-stop-shop.
The Mercantile and Mash is a popular onsite upscale grocery store with a whiskey bar, cafe, wine shop, butcher shops, a game area, and dining.
For me, though, the star of The Cigar Factory was ​​Fritz Porter Design Collective.
This homeware boutique is a must-visit for home decor lovers. I found a honeypot, ramekins, and stoneware bowls. I was almost ready to get a second bag to check when I saw their beautiful stoneware.
Sullivan's Island for the Afternoon
In the later afternoon, I drove out to Sullivan's Island. For lunch, I traveled down to the Obstinate Daughter.
Planning Tip: You do need a booking at this much-loved spot, but it's worth the wait.
If you want a quick meal with no reservation, on the other hand, you'll also have a good selection of spots down at the beach (though they don't offer the foodie experience of Obstinate Daughter).
After lunch, I went over to the Charleston Light, also known as Sullivan's Island Lighthouse, at Station 18. From here, you'll find a range of beautiful beaches, including Station 18, Station 21, and Station 26.
I dove in the water at Station 18, but ended up getting stung by a jellyfish—hopefully, you'll have better luck here!
Before you head down to the beach, you can find anything you need for the beach at Sealand Adventure Sports. They've got sunscreen, bikes, bags, and all of the other seaside must-haves
Another essential stop is Co-Op where you can load up on cups and cups of frosé.
These pretty pink slushies are a local favorite and you've got to try them at least once while you are in town.
Folly Beach is another popular destination about 30 minutes from Sullivan's Island so make a day of it if you have time.

Overall
Although I didn't find as many activities in Charleson as I did in Savannah, it's a lovely city for a long weekend. For me, it was all about the epicurean delights and gorgeous beaches.
You could spend your whole time eating your way from beach to beach and, to sweeten the deal, the warm hospitality at the inn, 86 Cannon, took things to the next level.